The Health Benefits of Fresh Juice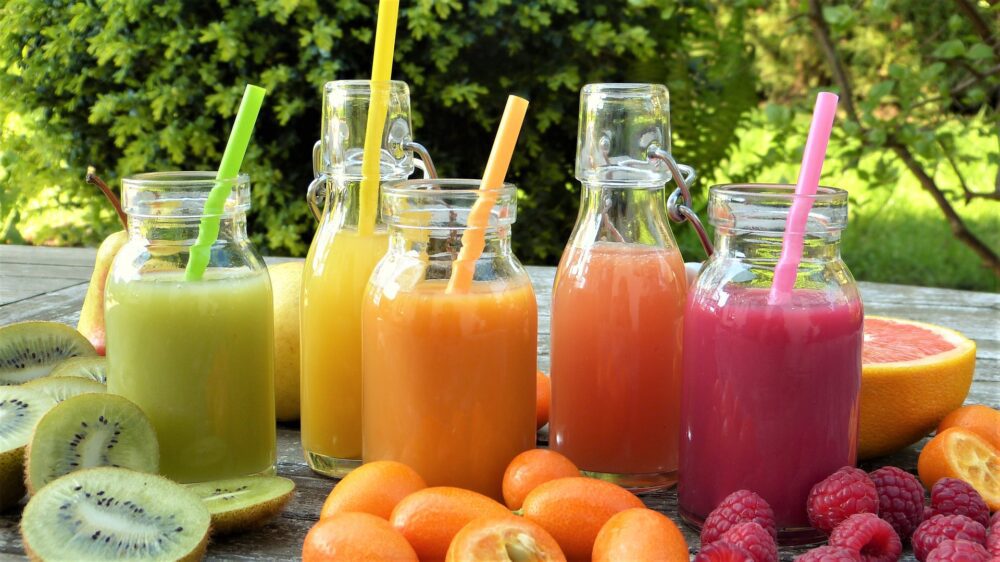 Natural fruit and vegetable juices are needed to supplement the diet of any person. Discover in today's article why they are good for you too!
A healthy diet provides an optimal level of energy and vitality, but also an excellent state of health. But what does a healthy diet really mean?
Consumption of fresh vegetables and fruits is one of its fundamental elements, while ensuring good hydration.
Here are some easy-to-follow rules that will help you adopt a healthy lifestyle!
Your diet should contain fruits, fresh vegetables, cereals, oil, and eggs. If you prefer meat, try to choose the lean meat and limit the consumption of red meat as much as possible. Fresh fish will always be the best choice!
Reduce the consumption of processed foods, with the addition of salt or sugar, preservatives or dyes.
Drink plenty of water to ensure good hydration. The recommended amount is 2L per day.
Natural juices: the key to a healthy body!
Natural juices provide the body with enzymes, minerals and other nutrients needed to maintain health in optimal parameters. In addition, they are also very delicious, along with their energizing, healing, or rejuvenating effect on the body.
Regardless of the season, an energy drink of this type has many advantages: it is easy to prepare, it digests easily, it offers a good state of the whole organism and also helps to strengthen the immune system.
Natural juices also have plenty of health benefits, such as calorie reduction or healthy eating habits. But, let's take them one by one.
Weight loss
The first benefit is that it favors weight loss. The best juices for this are those based on carrots – they have low calories and are rich in fiber. Grapefruit, too, can be an excellent option when you want to lose weight, as it contains plenty of water and gives you that feeling of satiety.
A shake of carrots and grapefruit can replace any snack and is so delicious. Try it too!
Detoxifying the body
Another benefit of home-made natural juices is that it helps you detoxify your body. To get rid of toxins in your body, you can make a cure of natural juices.
Try, for example, juice from watermelon and mint. Besides being extremely savory, it is both quick and easy to do.
The watermelon cleans the liver and kidneys of toxins, and mint is a powerful antioxidant.
Rejuvenating the skin
If you experience acne problems or have a greasy and sensitive skin, natural juices are ideal for maintaining the health of your skin.
Beet and carrots are an excellent source for improving skin appearance. Carrots have antioxidant effect and help slow the aging process of the skin. Also, carrot vitamin A produces collagen, which is necessary to prevent wrinkles or loss of skin elasticity.
Improving digestive system
Fruit and vegetables fibers are an important nutrient for digestive health and many of us consume very little fiber in our daily diet.
Fruits contain fibers that are useful for avoiding indigestion. Fiber helps regulate intestinal movements and automatically stimulates digestive processes. In addition, fibers help prevent diabetes, cancer and other diseases.
Bananas, apples, pears, grapes … are just some of the fruits that will improve your digestive system.
And among vegetables, mushrooms, spinach, cauliflower or broccoli are the foods that help to digest better.