Do you have a sitcom you absolutely love watching?
There are many people who say that if you want to discover more about someone's culture, eat their food, watch their shows, read their books, and you'll learn all the information you need.
Of course, nothing can compare to reality, but it's a good starting point until you get to meet people and have some down-to-earth conversations with them.
I still remember when I was in 9th grade and me and my classmates were watching "F.R.I.E.N.D.S" while we were on break.
It made us laugh and forget about the fact that the majority of us didn't know how to solve our Math homework without help. However, sitcoms are usually extravagant versions of real-life events and habits, but these American TV shows can give you a few hints about the dynamics of our values, beliefs, and everyday life in our beautiful country.
If you want to learn more about American people, lives, values, fashion, and so many other things, this article is perfect for you. Here are 7 sitcoms that show American culture.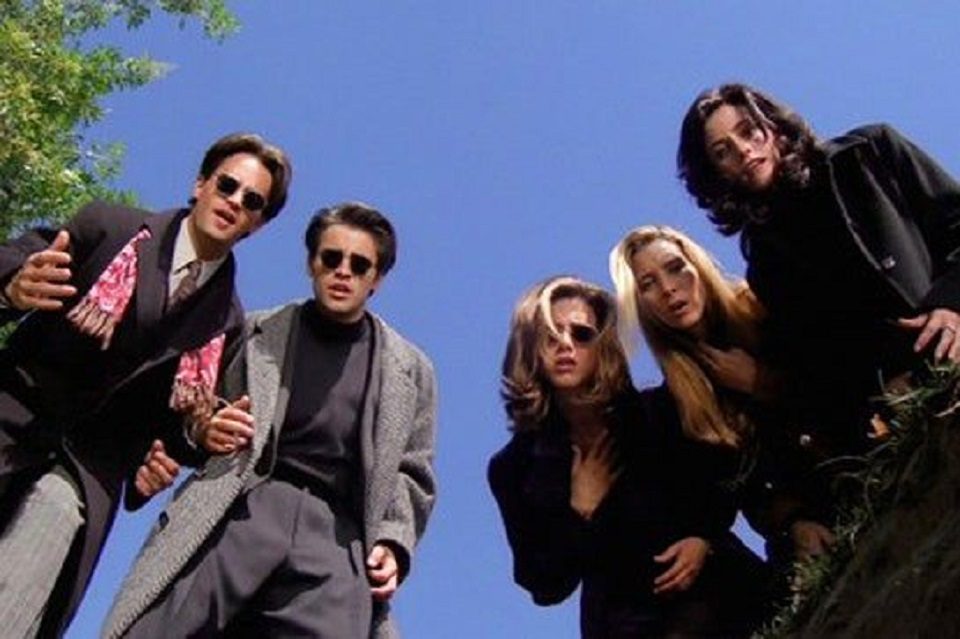 If you couldn't already tell by now, this sitcom is my all-time favorite and nobody can tell me otherwise! This TV show aired for 10 years, from 1994 to 2004 and it's very popular even after all these years.
This sitcom has inspired people all over the world in different directions, such as in clothing, hairstyles, slang words, and even real-life friendships and the way people talk to each other.
"F.R.I.E.N.D.S" follows the friendship of six people who were in their mid-20s until they reach their mid-30s. All the action takes place in New York City and the whole show is focused on their friendship and the way they always act as a family.
This sitcom is the very first TV show in which we can see a gay wedding and that is not all. The creators wanted to show the world some of the values they believe in, so they tried to transpose them into their characters.
For instance, all three girls from "F.R.I.E.N.D.S", Monica, Rachael, and Pheobe, have children in different ways. Monica can't get pregnant, so she adopts kids, Rachael is a single mother and Pheobe is her brother's surrogate.
It might not seem very important at first, but the creators wanted to show the world that women can have children in different ways and all of them are just as important and should be accepted in society.
Even though the show ended many years ago, you can still say popular phrases such as "We were on a break!", "Oh. My. God.", and "How you doin'?", and all Americans will know that they come from "F.R.I.E.N.D.S".
However, make sure you use the character voices on the last two phrases because that's the only way they work!
2. Modern Family
Many people say that this sitcom reflects the way some American families actually look in real life. "Modern Family" is a funny TV show that follows the story of an extended family: Jay and his second wife Gloria, who is a Colombian emigrant, and her son from her previous relationship, Manny; Phil and Claire, a straight couple who has three kids, and Cameron and Mitchell, a gay couple with their adopted Vietnamese daughter.
The show aired between 2009 and 2020 and it's very popular among Americans who are more conservative. The sitcom is focused on the way the members of this family interact with each other and find a way to cope with their lives.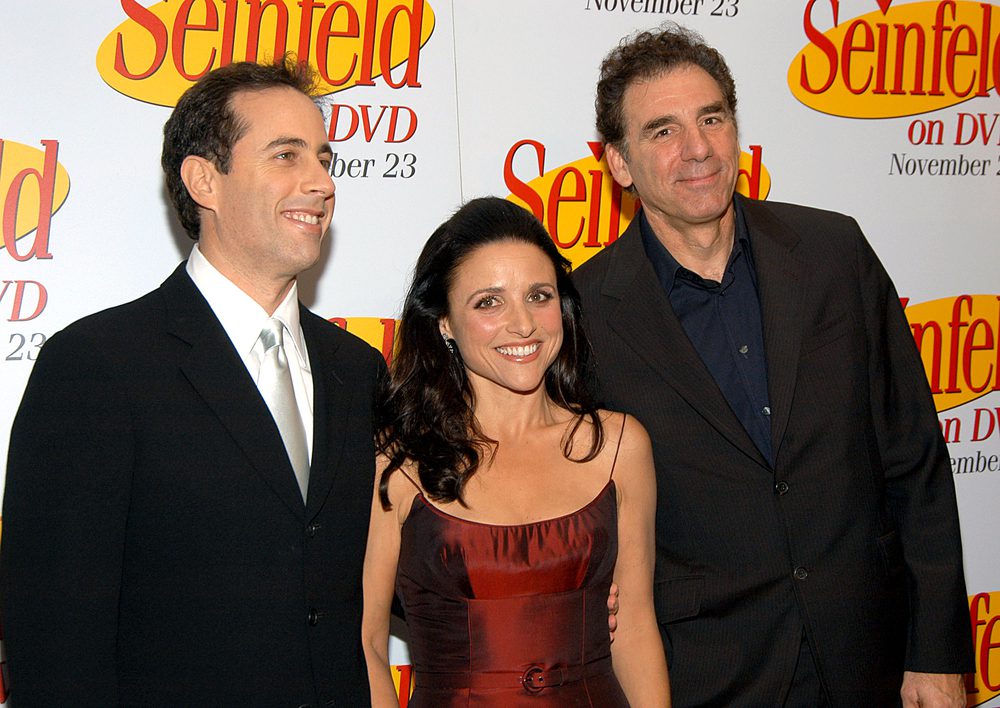 3. Seinfeld
In 2002, the American magazine TV Guide voted the sitcom "Seinfield" as the most excellent show of all time. This TV show made its first appearance in 1989 and aired until 1998.
Many people believe that this sitcom is a good portrayal of the type of humor American people find in their everyday lives living in the city.
Even though this sitcom doesn't have a strong storyline, it tackled several topics, such as holidays, traffic, crimes, and people you meet on the streets of New York City.
The show was named after the main actor, Jerry Seinfeld, who played a fictionalized version of his own person on the show. The rest of the characters are based on his real-life friends and the people Seinfield met in his life.
This element of reality is one of the things that made this sitcom so popular among the American people. It is believed that the majority of this show's fans found a little piece of themselves in the characters.
4. Mad Men
The fourth popular sitcom on our list aired from 2007 to 2015 and it's called "Mad Men". The action in this show is composed of the lives of the people who work at an advertising agency in Manhattan during the 1950's and 60s.
The storyline is focused on different topics, such as gender, race, and class. If you watch this great sitcom, you will see the characters' reactions to very impactful events, such as the first manned moon landing, President John F Kennedy's assassination, the Cuban Missile Crisis, President Nixon's inauguration, and the Vietnam War, and so many other historical events.
5. The Office 
The fifth well-known sitcom we will talk about in today's article is called "The Office". This TV show aired from 2005 to 2013 and illustrates the everyday work lives of office personnel in the Scranton, Pennsylvania branch of the fictional Dunder Mifflin Paper Company.
This sitcom is based on another show called "The Office", a BBC series from 2001 to 2003, which was created by Stephen Merchant and Ricky Gervais.
This sitcom is very popular for its rather large cast size, and many of its stars are known for their improvisational work. An interesting fact about this show is the way the actors got the parts.
They didn't have to learn a script and present it in front of the producers, but they had to respond to weird questions addressed by the staff members as the characters they were auditioning for would answer.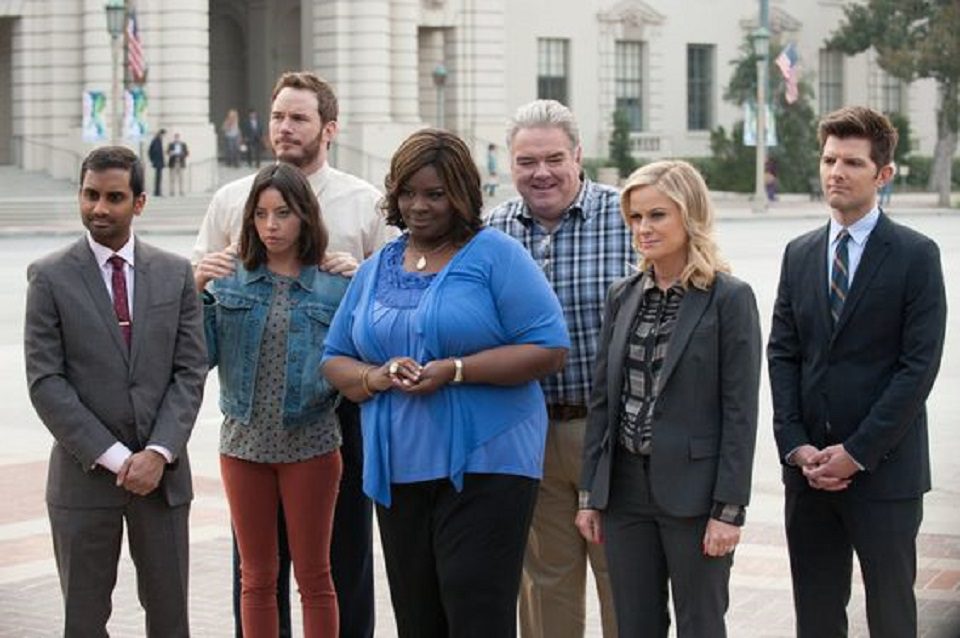 6. Parks and Recreation
"Parks and Recreation", also known simply as "Parks and Rec", is another sitcom that shows a few of America's values. This show started in 2009 and if you plan on watching it, you should know that it will make you laugh, while also giving you a glimpse of what's happening behind the closed doors of a section of the American government.
The action of the sitcom is based around the growing career of a man named Leslie Knope, who works as a mid-level government employee in the Parks Department of Pawnee, which is a fictional town in the lovely state of Indiana.
"Parks and Rec" tackles several problems American citizens have to face on a daily basis, such as political activism, anti-corporate emotions, and also the upgrading of women in the workplace, all of them tackled in a way that will surely make you laugh.
7. Roseanne
Just like "Seinfeld", the sitcom "Roseanne" is named after the main actress, Roseanne Barr, who gave life to a character that is a fictional version of herself. Her "alter-ego" is loud and dull, but loving, funny, and realistic at the same time.
The show aired for 9 years, between 1988 and 1997, and it tackles the life of a working-class American family and all the things they've been through, such as finding a way to make enough money to support their three kids.
One of the things that made this sitcom so popular among Americans is the fact that the characters didn't fit into the stereotypes that we usually see in family TV shows.
The show keeps things real and ordinary and you might find that some of the characters actually remind you of people you actually see in your day-to-day life, such as co-workers or neighbors.
…Have you watched any of these sitcoms? If yes, which one of them is your favorite? Tell us in the comments down below, because we are very curious to know!
…If you want to know more about American culture, check this article out: 10 American Traditions That Shock the Rest of the World!
(Visited 453 times, 1 visits today)