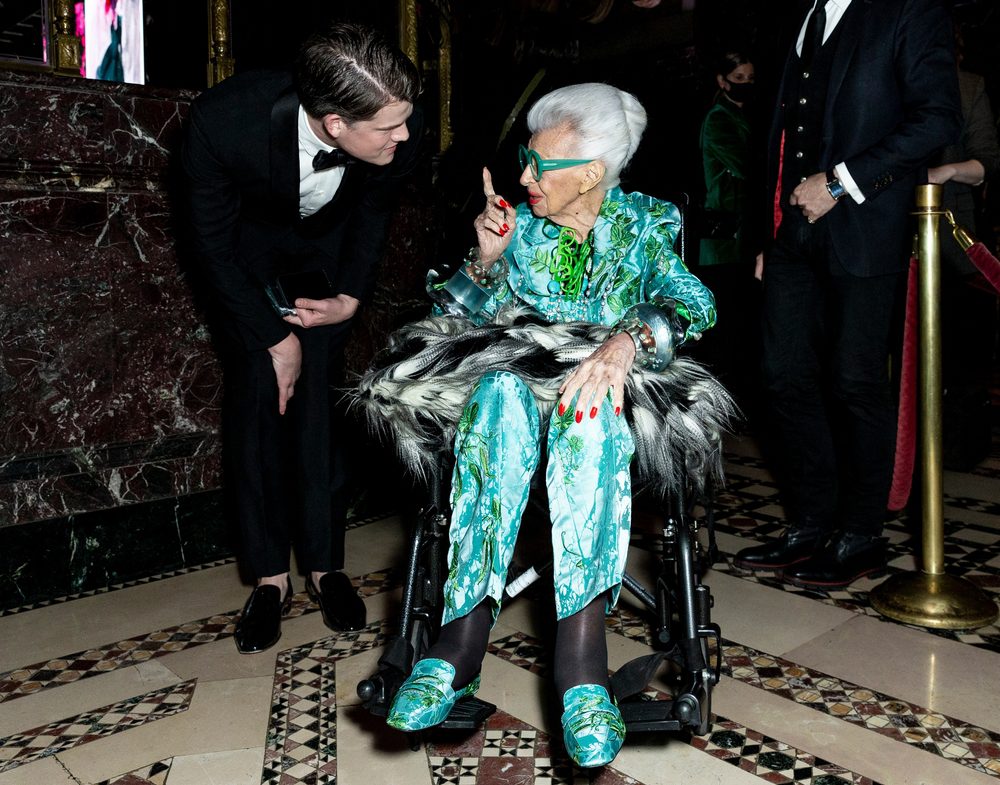 Nowadays, Iris Apfel is one of the most famous and fashionable businesswomen in the United States. She is highly appreciated for her eclectic style, as she likes to pair layers of bright colors and oversized glasses with jewelry or sparkly accessories.
In fact, Iris Apfel is such an item, that she was the subject of a great exhibit at the Costume Institute in the Metropolitan Museum of Art, which ran from September 13, 2005, until January 22, 2006.
Apfel was 84 at the time. Now, she's 100 years old. She has been called "an American original in the truest sense, and one of the most vivacious personalities in the fashion, textiles, and interior design world.
There are so many things to learn about this woman, that we thought it would be the case to recall 10 of the most important pieces of life advice she has ever given:
Don't become obsessed over your age
"I never gave importance to my age. Maybe that's the ticket. I never ever think about it, it just passes through me. Age is just a number, and I have found that work is very healthy for me.
I am in love with what I do and I put all of my heart and soul into it." Apfel says. And as she says, "gettin' old ain't for sissies." She admits that while you might notice that you start to fall apart, the best thing to do is to buck up and paste yourself back together.
Getting older might not be your favorite thing on the list, but is there any other alternative? You're here, and you have to embrace it.
Pick someone who celebrates your successes
Iris Apfel remembers her sweetheart Carl, who died in 2015 at the glorious age of 100, saying that "everyone he ever touched knows that he was truly a Gentle Man."
According to Apfel, his humor and generosity were extremely generous and legendary. They used to do everything together, and he had great encouragement and unwavering support for everything she has ever done.
"He pushed me into the limelight and then lounged in my success. He got more of a kick from the accolades I received than I did. I miss him madly. Sleep well, my sweet prince." Well, that's a great love story!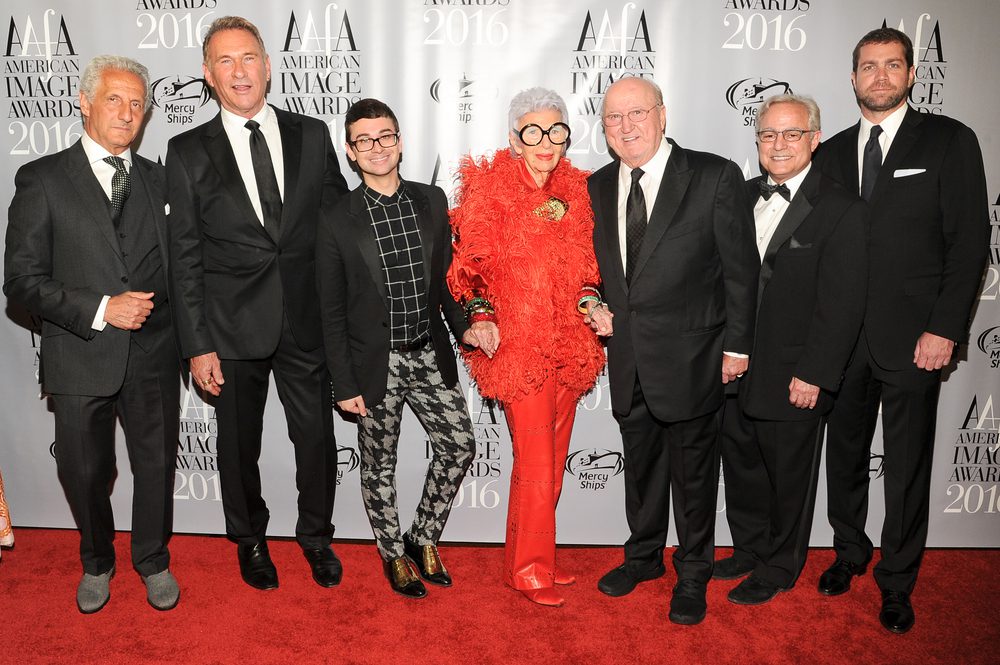 When something is exciting for you, go for it
Iris Apfel recalls how she never expected anyone to know her name or recognize her face, nor to be called a fashion icon. Also, she never would've thought that she'd be one day a cover girl or the face of a cosmetics company in her NINETIES.
She definitely didn't expect any of that, and that she just feels she needs to do things and she does them. She tries anything that sounds exciting and interesting to her, and then she worries about it later.
"While most people would rather just go with the flow, which is much easier, I don't believe it's just as interesting."
If you want to stay young, you have to think young
"When you're getting older, if it happens to have two of anything, there are big chances that one of them is going to hurt when you get up in the morning. But either way, you have to get up and move beyond the pain.
If you want to keep a healthy mindset, you have to think young." As Iris says, you have to keep your sense of wonder, but also your sense of humor, and curiosity.
According to her, these are the best tonic, because they'll keep you young, childlike, and open to new people and things. Don't aim for that old-fuddy-duddy attitude, but keep yourself open to new adventures!
Care about what you think above anyone else
Iris Apfel never tried to fit in, and not in the sense that she aimed to become a rebel or do things that were definitely not accepted by society, but she learned early on how important it is to be yourself in order to be happy.
"Don't worry, unfortunately, I had to learn how to play bridge when I was younger." But as she says, if you'll try to be all the things to all the people, you'll end up being nothing to nobody.
This doesn't mean that you have to be eccentric like her, but be yourself, dress for yourself, because you're number 1!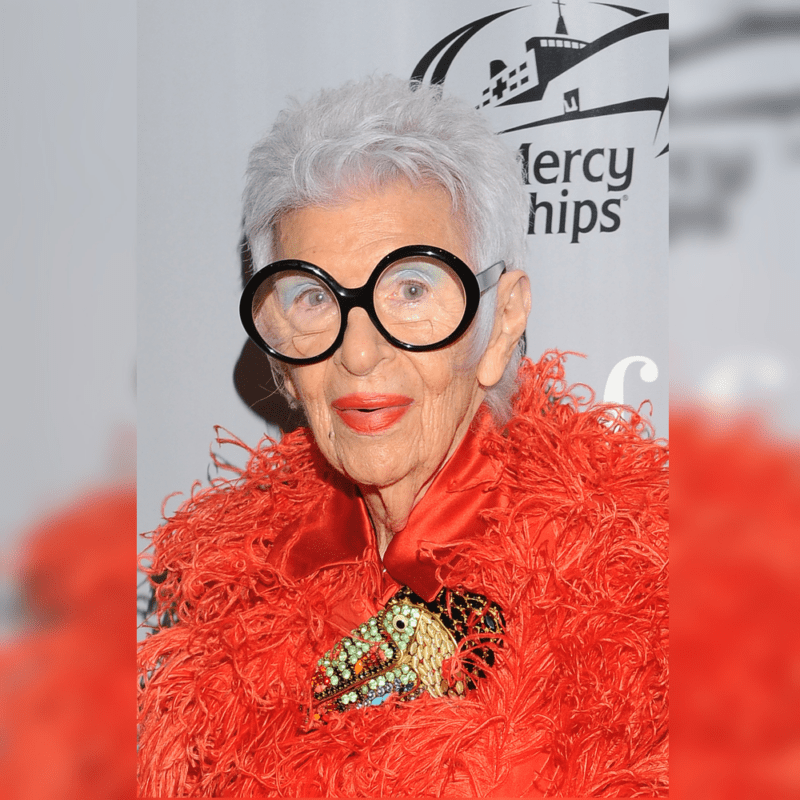 But don't become too isolated, either
"Here's the tricky part: I may know I'm not an island, but more like a part of the main, to paraphrase Mr. John Donne(the poet). I fit in but in my own way.
I have never been much of a conformist of any kind, actually, and it still hasn't hurt me." Even if you're living your life the way you want and not the way others are telling you, this doesn't mean that you shouldn't try to be part of things. First, you have to fit in, and then you can step out.
Because there is a HUGE difference between being seen as an original person and being accepted and loved for it, and being perceived as different and being resented for it, as Apfel well pointed out.
Money won't buy your success
"If you feel that you're happy and that you have found the love of your life, and you are surrounded by good people, the success is to do what you like and give back to others.
Selling your soul for a couple of bucks is not worth the real price you have to pay. Not to me, anyway." Iris Apfel says. And by selling your soul I think she meant that you give up your memories and days to work for something that has no great value for you.
Money will never make you as happy as all the things she enlisted would.
Style is not about spending your money
Another misconception about money is that style is about wearing expensive clothes. "You can have all the money you want and have no style at all.
You can be dressed in the latest haute-couture, walking in ten-thousand-dollar shoes and look like a Christmas tree" as Iris Apfel writes. "So it's not what you wear but how you wear it." As she says, there's no difference to her between bangles that cost three dollars and other valuable pieces.
Even more than that, she developed a passion for mixing high and low, putting things together to wear as her spirit dictates. "When you're trying too hard to have style, you look uncomfortable."
You can start new endeavors with a little step
Iris Apfel says that "the only way to fail is if you don't try. I never thought that I wasn't able to do something because I was a woman. If I wanted to start a fabric business, I just figured out how to do so.
If I thought about opening Old World Weavers too often, I probably wouldn't have pursued my dreams. So sometimes you just have to take matters into your own hands, even if it is a small step.
In my ninety-some years of walking on this planet, I have applied this philosophy to living, and dressing – and it never did me wrong."
Don't act like you're younger than you actually are
Iris Apfel invited all of us to realize that there isn't really anything wrong with wrinkles. "When you're older, and you try to look years younger, you're foolish and you're not fooling anyone.
When you're seventy-five and you get a face-lift, who's gonna believe that you're thirty?"
If you enjoyed reading this article, we also recommend reading: Top 15 Most Powerful Women in the World
(Visited 209 times, 1 visits today)