Dimitri Mendeleev, the Genius from the Heart of Siberia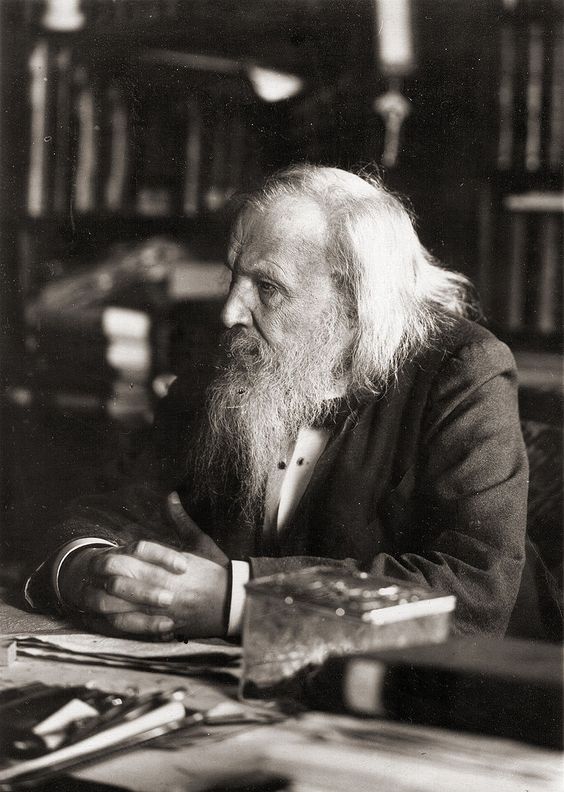 Any child who has been through the first years of school is impossible not to have heard of Mendeleev's famous periodical, the table of all the chemical elements. It is basically the lesson with which any chemistry course begins and without chemistry, as we know it today, would not have been possible.
At first glance, it seems a random order, which anyone could have imagined if he knew the number of protons in an atom. But the story behind this invention is much more complex than anyone could imagine, and Mendeleev, the scientist to whom we owe this order, is a character worthy of Dostoevsky's novels. A character about which, beyond all his controversies, one can rightly say that he was one of those geniuses that are born once a century.
Dmitri Ivanovici Mendeleevhis was born on 8 February 1834 in a small village in the heart of Siberia, located near Tobolsk. He was the youngest of his brothers and sisters and comes from a large family of 14 children. 
Even though we are talking about a typical Russian family from the beginning of the nineteenth century, a family with a strong religious education, Dmitri was educated by his parents, Ivan Pavlovici Mendeleev and Maria Dimitrievna Mendeleeva, in the spirit of practical, scientific observation, of to the realities of the world, considering that this is the ideal method of knowing God and His creation.
Professor of philosophy and fine arts, Ivan Pavlovici Mendeleev graduated from the courses of the St. Petersburg Pedagogical Institute, a diploma that allowed him to return and teach in his native places. In addition to the professor's salary, Ivan was conducting a small glass factory, dowry of his wife, Maria Dimitrievna. Here, in this factory, little Dmitri becomes fascinated by the "miraculous" process of glass production and is even offered a job for his powers.
But this quiet existence would not last long. Shortly after the birth of Dmitri, Ivan Pavlovici Mendeleev goes blind. Unable to hand over his family business, he is forced to leave everything to his wife. Ivan died when Dmitri was only 13 years old, and two years later, the only source of income of the Mendeleev family, the glass factory, disappears into a fire.
In 1857, Dmitri obtained his master's degree from the Simferopol Gymnasium. It had become evident that the young teacher was not made just to teach children. From the age of 20, he wrote science articles regularly and became a chemist, a science he had studied in parallel with pedagogy. All this passion and his perseverance of iron, gives Dimitri a scholarship that allows him to study chemistry in Germany at the University of Heidelberg, along with some of the greatest chemists of the time.
---

Periodic table of elements
Returning to Saint Petersburg in 1861, Dimitri obtained a professor at the Technical Institute, but his attention was still focused on the scientific aspects he had learned about in Germany. He had become aware that Russia was far behind the Western countries in terms of scientific advances, a situation that he decides to change on his own.
And so, at the age of only 27, Dmitri Mendeleev publishes a vast work of over 500 pages called "Organic Chemistry". It may have seemed incredible, but Mendeleev had been working on this study day and night, sleeping or eating very little for 61 days. It was a work that brought him the Domidov Prize for Science and National Recognition as a high-ranking researcher.
As a result of this recognition, at the age of 33, Dmitri is offered the chair of general chemistry at the University of St. Petersburg, a position that confirms his condition as the first chemistry researcher in Russia. Two years later, Mendeleev published another paper, The Principles of Chemistry, which was to bring its international reputation and was published throughout Europe in English, French and German.
Immediately after the publication of the "Principles of Chemistry" in 1869, Mendeleev began working on the second volume of this extensive work. But his obsession remained the discovery of that order after which the chemical elements could be standardized. He had written on the cartons the names of all 65 chemical elements known at the time, like a pack of playing cards. Each of them had noted the properties of each element, then the atomic mass, an extremely important aspect in what was to follow.
Mendeleev observed that, depending on the atomic mass, certain properties of the elements were repeated, but he could not see their pattern. What followed has become  a true legend. It is said that by moving the cartons for hours to find an order, Mendeleev fell asleep on the desk. In his dream would have appeared the table that made him famous, a table in which the elements were sitting alone in the places where they should have been positioned. Waking up suddenly, Dimitri Mendeleev put everything on paper and the Periodic Table of Elements was published after only two weeks of work.
Mendeleev had now placed Russia among the most important countries in terms of their contribution to science. And as chemical elements were discovered, and scientists from all over the world saw how they fit perfectly into Mendeleev's table, and more so, they had been anticipated by the Russian researcher, his fame growing year after year. As an example, in 1905, the British Royal Society awarded him the highest distinction, the Copley Medal, and in the same year the Swedish Royal Academy of Sciences appointed him a full member.