Have YOU Considered Turning Trash Into Cash?
As I retired and started getting in my social security checks, I realized my family's financial status wasn't going to cut it. Just getting by wasn't good enough for us.
So as my husband and I brainstormed our ideas about what we could do, he remembered that he would recycle bottles and cans for ice cream money as a kid. Which is how we came up with our current lifestyle.
And we realized that there is more than one benefit to recycling. For one, we're boosting the economy, reducing the use of natural resources, and saving energy.
But since that lacks an immediate personal benefit, if you want profit from your good deeds with more than just plain karma, check out these 7 ways we've found to turn our trash into cash!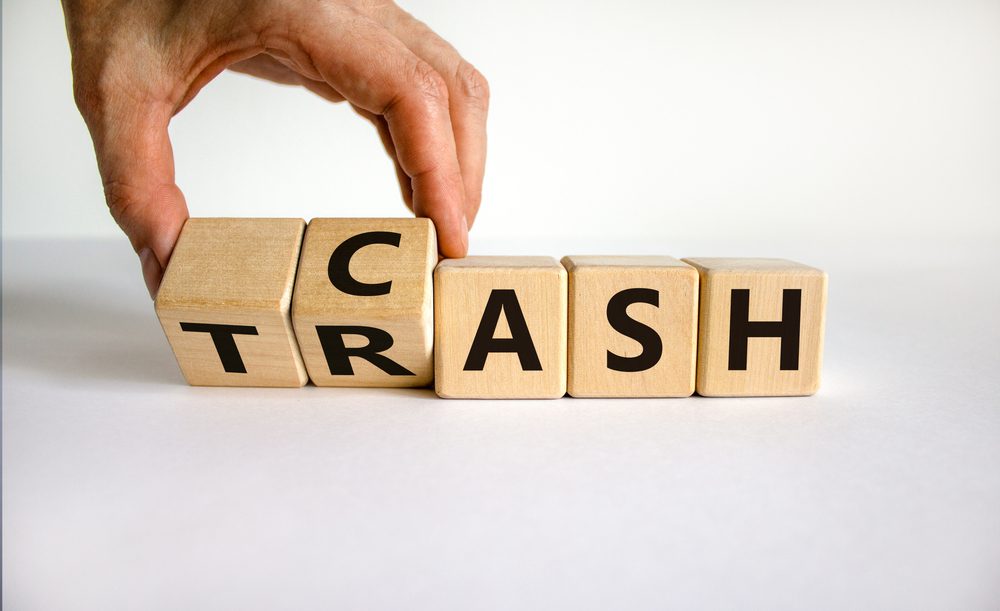 Trash Into Cash Idea: Do You Have Old Appliances Lying Around?
Let's be honest. When most of us buy any new appliances, we STILL keep the old ones hidden away in some cabinet or THAT closet you don't want anyone to know about for "Just In Case" moments.
Well, guess what? Depending on how old they are, what condition they're in, and if they still work, you may be able to sell them for some extra cash.
If your appliances happen to be in good condition and they still work, consider listing them on sites like Craigslist, VarageSale, or Facebook Marketplace. If they don't, you could sell them for spare parts on any of the websites mentioned above or even at your local scraps yard.
This is a trash into cash idea that I've even shared with my friends, and they've ALL benefited from it!
Trash Into Cash Idea: Cash For Old Car Batteries
Does your car need a new battery? If it does, you can trade in your old one for a bit of a discount on a new one. Most auto parts stores will automatically give you a discount on your new battery if you give them your used one.
So be sure to ask about this idea before making any new purchases.
Also, if you have any old batteries lying around your garage, you might be able to sell them for cash at auto part shops, junkyards, or even sites like Craigslist. On average, you can earn anywhere between $5 to $12 per battery.
Trash Into Cash Idea: Sell Your Glass Bottles
You may already know about this oldie but goodie. Recycling glass bottles for cash has been around for a very long time.
Unfortunately, here in the US, there are only ten states that pay money for bottles: California, Connecticut, Iowa, Hawaii, Massachusetts, Maine, Michigan, New York, Oregon, and Vermont.
And you'll get about .05 to .015 cents per bottle. If you don't live in any of these states, it may still be an option worth exploring. You can do a Google search for your city, and the search term "sell bottles."
You may also be able to find a homebrew supply store, a local recycling center, a vineyard, or a brewery that accepts glass bottles for cash.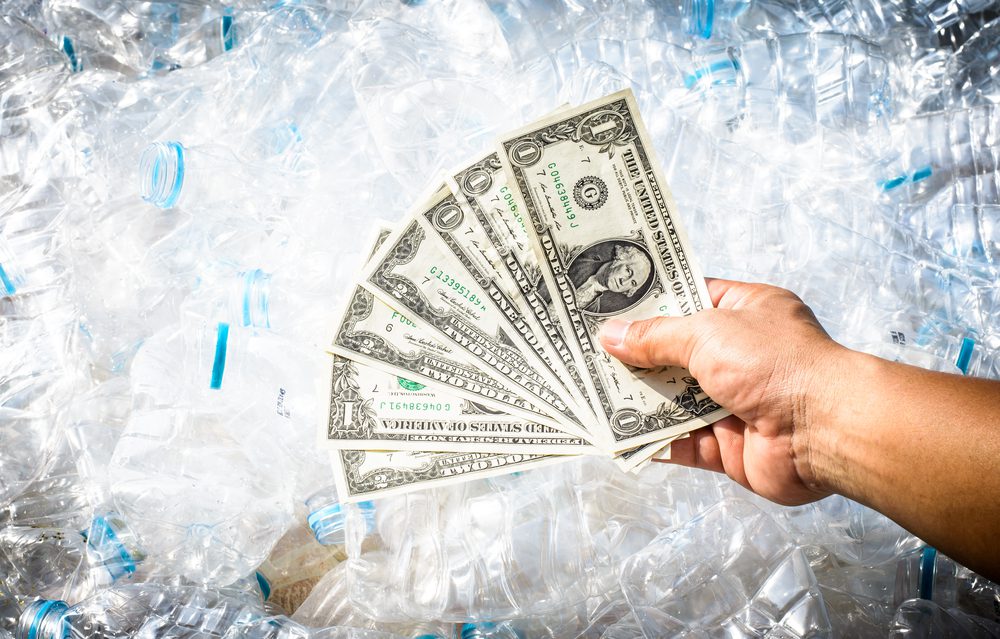 Trash Into Cash Idea: Selling Plastic Bottles
This is another one you most likely know of, but that doesn't mean it's a bad idea. According to a few sources, most Americans use at least 167 disposable water bottles but only recycle about 38 of them.
Because of this problem, a lot of countries and some of our own states try to motivate people to pick up plastic bottles and recycle them for extra cash.
As an example, in Europe, some countries have installed reverse vending machines. It's a system where you can return any plastic bottles for cash.
Because plastic is a global problem, I can take a wild guess that this trend of paying for recycled plastic will go on for quite some time. To check for a plastic bottle recycling center near you, find: Earth 911.
Trash Into Cash Idea: Old Ink Cartridges
If you have a home printer, you probably go through many ink cartridges … but did you know that you can sell those old cartridges for cash?! At the eCycle Group, you can send in your used ink cartridges and cell phones, by the way, for some quick cash.
Just sign up on their website, and a pre-paid envelope will be sent to your address. Ship your items back to them and get paid via a check.
One great thing about these guys is that they have a price list on everything, so you know exactly how much your empty cartridges will be worth. The only downside is that you have to send in 20 items at a time, so you may need to save up your cartridges before you can actually ship them off.
Another great option of turning trash into cash? HP has partnered with Best Buy, Staples, Office Depot, and Office Max to recycle your used ink cartridges if you want to sell locally.
For example, Staples rewards your efforts with $2 in-store rewards. With Best Buy, you'll receive a 15% off coupon for an HP Inkjet Printer, and with Office Depot and Office Max, you'll earn $2 in-store rewards.
Trash Into Cash Idea: Sell Your Reclaimed Wood
Have you just moved or remodeled your home? Or maybe you flip houses. You may even have an old barn that needs to be demolished? Then you should consider selling your old reclaimed wood for some extra cash!
Antique Beams and Boards will pay you hard cash for your ash, elm, hickory, maple, walnut, and white oak wood. To get more info, just send them an email with length, sizes, the type of wood if known, and photos.
FYI: Antique Beams and Boards has an A+ rating with the Better Business Bureau.
…How's THAT for an idea of turning trash into cash?!?
Trash Into Cash Idea: Old Receipts For Cash?
Hear me out on this one! If you want to turn your trash into cash, you shouldn't throw away your receipts! Some companies will actually use your receipts for their market research reports.
For example, Checkout 51 is an app where you can earn money by redeeming offers when you shop for groceries. Each Thursday, they upload new offers. Just purchase products on your grocery list, and snap a picture of the receipt. Once your account hits the $20 mark, you can request your payment via check.
Ibotta is another app that you can use to earn money when you shop. Before heading out on your shopping trip, finish tasks related to your favorite brands. Then, go shopping at stores like Target or Walgreens and take photos of your receipts.
Once the transaction has been verified, you will be credited with the specified amount on your account. All payments are made via PayPal and can be transferred as soon as you earn $5.
Receipt Hog is another one of my favorite apps that takes photos of your receipts from any grocery store, dollar store, drug store, convenience mart, beauty supply, and even pet supply store.
Once your receipt is inputted into their system, they will award you with virtual coins that you can trade in for cash via PayPal or, my favorite, Amazon gift cards. The amount of coins you earn for each receipt depends on how much your total bill is. You can submit 20 receipts per week and trade 1,000 coins for $5.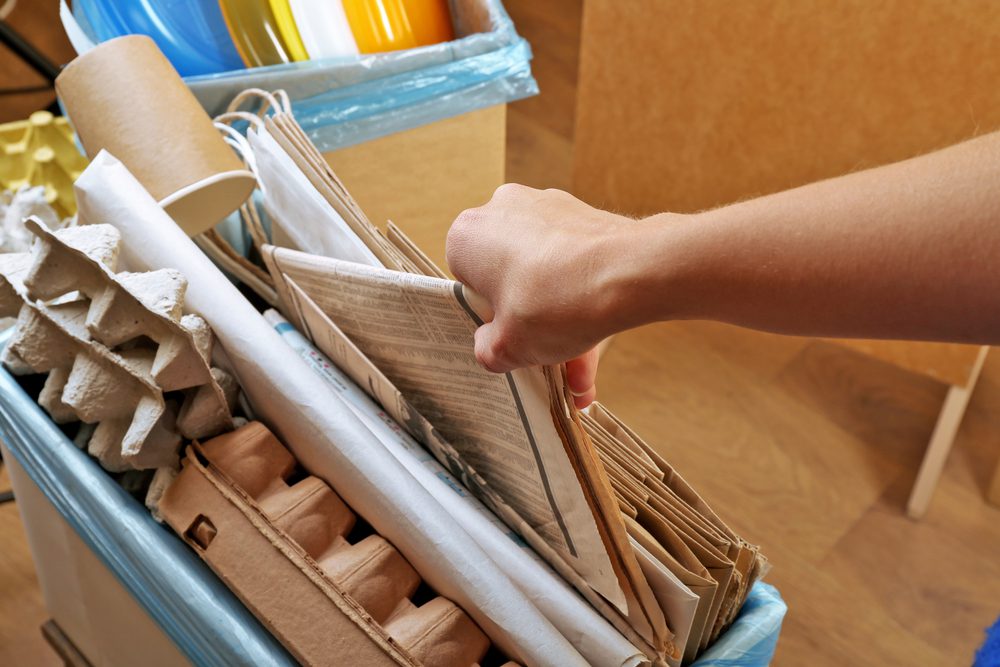 Trash Into Cash Idea: Cardboard For Recycling
That used cardboard you've been saving can be another source of extra income. You probably save all these boxes whenever you buy something new, thinking you'll be putting them to good use one day. Not to mention that online order boxes can pile up quickly.
About half of all recyclables collected in our country are made up of paper products, cardboard included, amounting to 43 million tons per year. 89% of corrugated cardboard will get recycled. But what you may not know about is that there are places that will pay you for all these used cardboard boxes.
For example, BoxCycle lets you list your cardboard online and will then find buyers willing to drop by and pick it up and pay you for it, with money held by BoxCycle and then delivered to you through PayPal.
When recycling cardboard, keep in mind that it can only be recycled if it hasn't been stained by grease or any food and if it's not wet. Also, these boxes have to be broken down before you recycle them so that they can fit through the recycling machines.
So now that I've covered a few of my favorite ways of turning trash into cash, think about it. It may be worth your while…and MONEY!
And if you found THIS article useful, I also recommend: Try These 10 New Technologies To Earn More Money
(Visited 413 times, 1 visits today)