Pineapple Properties, Benefits and Health Risks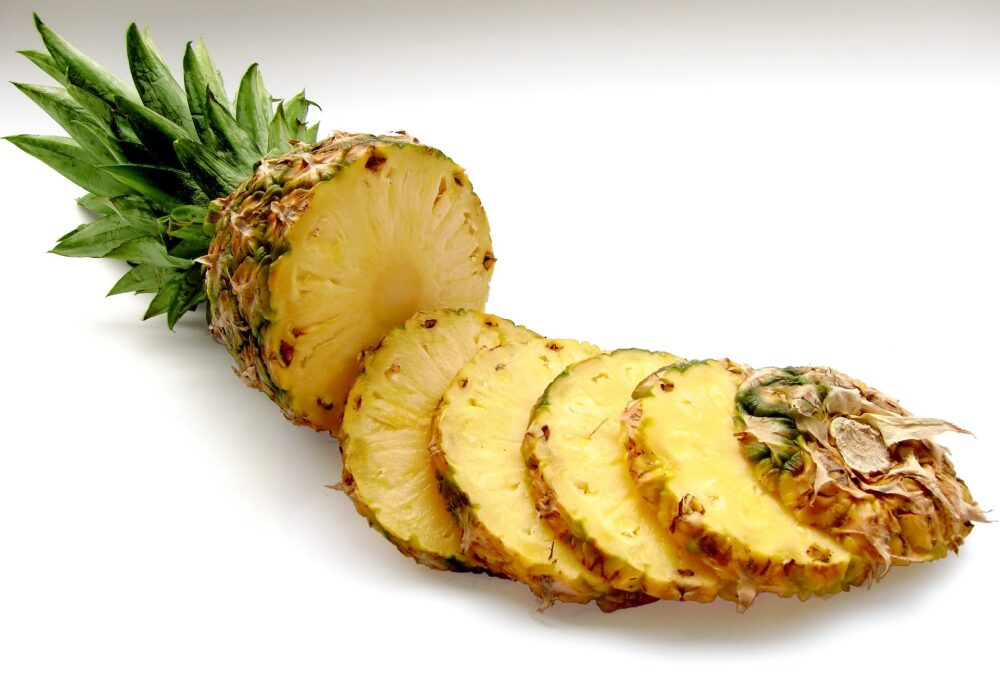 Pineapple is a tropical fruit rich in vitamins, enzymes and antioxidants. Pineapple properties help to support the immune system, strengthen bones and fight indigestion. Pineapple contains high levels of vitamin C and magnesium, according to American nutritionist Laura Flores. This tropical fruit is also rich in fiber and in bromelain, an enzyme that is believed to regulate the immune system. At the same time, pineapple contains high levels of magnesium, an important antioxidant, thiamine, vitamins B1 and B6 involved in energy production.
Pineapple is a juicy tropical fruit with a sweet-and-sour taste, a taste that is due to the presence of citric acid and malic acid. About pineapple, it is said that in 1493 Christopher Columbus received it from the inhabitants of the island of Guadalupe of Antilles, and then he took it to Spain. From Spain, pineapple has spread to the tropical areas of Africa and Asia.
Pineapple is nutritious, savory, vitaminizing, remineralizing, has invigorating, anti-inflammatory, detoxifying, purgative, antidepressant effects. Pineapple is a fruit that many people use to serve at the end of a meal as a delicious dessert that helps digest other foods. Others, instead, prefer to consume it before the meal, especially when the stomach is weakened for various reasons. Among the tropical fruits, pineapple is one of the most popular fruits, being exceeded only by bananas.
---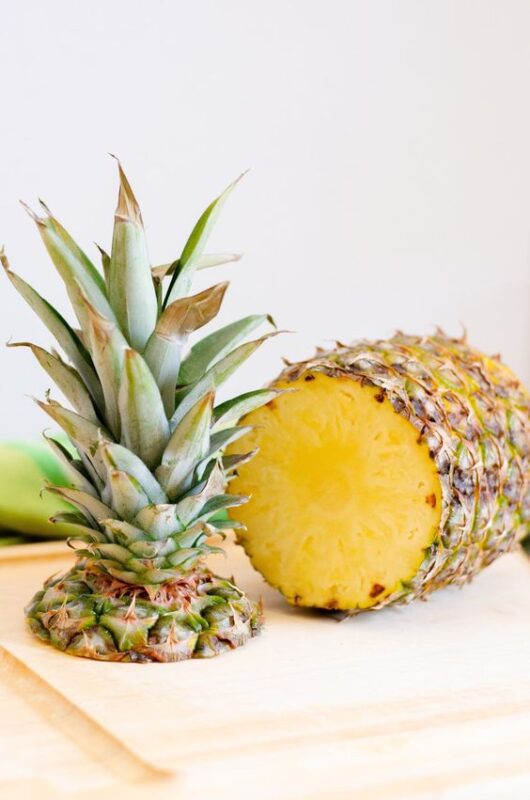 How nutritious is the pineapple
A small bowl of fresh pineapple cut in cubes, about 80 grams – contains 38 kilocalories, 87% water, 10 grams of carbohydrates, and 1 gram of dietary fiber, the glycemic index being average. If it is consumed in the form of juice, it decreases the amount of vitamin C and fiber, and increases the absorption rate of glucose in the intestine – glycemic index – and the amount of calories per gram.
Pineapple properties
Benefits for Health
Supports the immune system. Pineapple contains the recommended amount of vitamin C. Vitamin C is a water-soluble antioxidant that prevents cellular damage, according to the Linus Pauling Institute in Oregon. Vitamin C helps the body in fighting cardiovascular disease and joint pain.
Strong bones
Pineapple helps keep posture and bone health. The fruit contains 75% of the recommended amount of manganese, an essential mineral for developing strong bones and healthy tissues, according to the Linus Pauling Institute. In 1994, a study suggested that manganese, along with other minerals, helps prevent osteoporosis in postmenopausal women.
Beautiful skin
Thanks to its antioxidant rich content, pineapple helps keep your skin smooth and young, and is recommended for keeping the skin as young and healthier as possible. Researchers believe that free radicals are responsible to a large extent for skin wrinkling and damage over the years. Vitamin C and antioxidants contained in pineapple can help reduce signs associated with aging. Vitamin C also plays a vital role in the formation of collagen, an important constituent of your skin.
Pineapple promotes eye health and digestion
"Pineapple contributes to reducing the risk of macular degeneration, a disease that affects the elderly, along with high levels of vitamin C and other antioxidants," says Flores. Like other fruits and vegetables, pineapple contains essential fiber for healthy digestion, promoting bowel health, according to Mayo Clinic specialists.
It is anti-inflammatory
"Because of bromelain, pineapple can help reduce inflammation in the body and slow down tumor growth," says Flores. A variety of studies have shown that bromelain helps to treat osteoarthritis, but further studies would be needed to draw a clear conclusion. The high level of inflammation in the body increases the risk of cancer, according to the Memorial Sloan Kettering Cancer Center.
Studies conducted so far in the laboratory have shown that bromelain and other enzymes present in pineapples may increase survival rates in animals with various tumors. There is no evidence, at least until now, that it is the same for people. In addition, this enzyme helps reduce excessive blood clotting, making pineapple a frequent snack for people at risk. In combination with vitamin C, the enzyme reduces mucus from the nose and throat, according to the Medical Center of Maryland University.
Risks
However, there are risks in the event of excessive consumption. Too much pineapple can increase the sensitivity of the oral cavity, according to Flores. This situation should be resolved by itself within a few hours. However, if irritation occurs in this mucous, difficulty in breathing, signs that could indicate an allergy, go and consult a specialist.
High levels of vitamin C can cause abdominal pain and stomach burns, diarrhea, and vomiting for people who consume a lot of pineapple. In addition, excessive levels of bromelain may cause skin irritation, vomiting, diarrhea and strong menstruation, according to the Maryland Medical Center. Bromelain may also interfere with certain drugs. Those who take antibiotics, anticoagulants, anticonvulsants, benzodiazepines, insomnia pills should not consume too much pineapple.