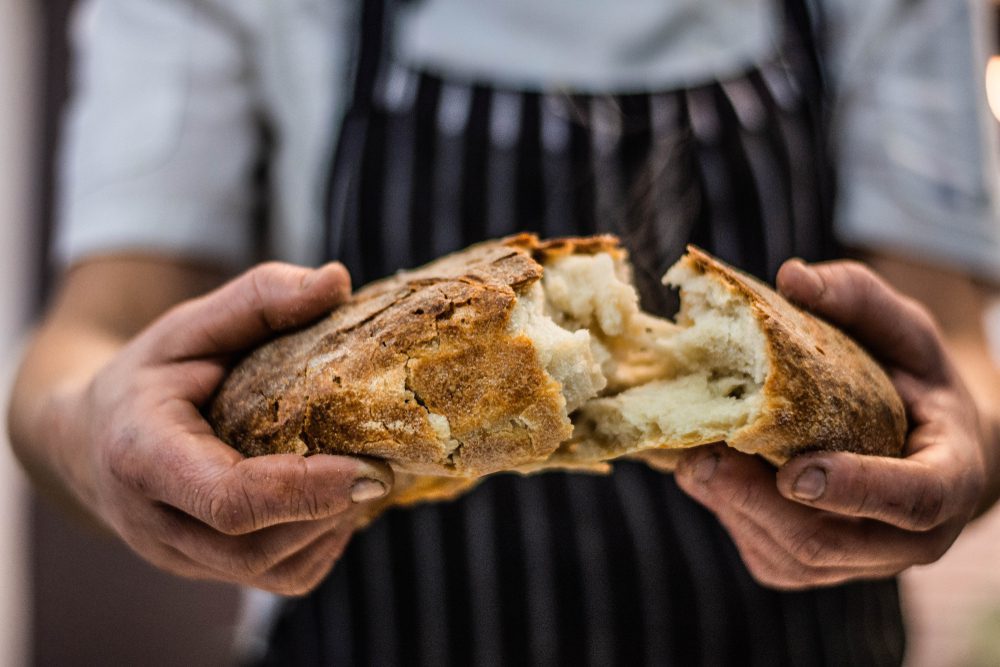 Why do Chefs prefer shopping at Costco?
Huge disclaimer: No, we didn't ask 100 chefs if they buy their favorite ingredients from Costco. But we did speak to a professional baker and his partner, and they asked other professionals they knew as well.
So in a way, yes, you can say we asked 100 chefs. Anyway, what we found out was extremely surprising: many chefs prefer shopping at Costco for several ingredients they need.
Why? Apparently, the quality is top-notch, and they prefer shopping Kirkland products in bulk for a reasonable price. Well, what is there to do rather than take their example, right? I mean, if chefs do it, we should definitely try it too! Find out here which Costco products they highly recommended:
Garlic
Adding garlic is ESSENTIAL in any recipe you might want to make (maybe except for desserts). Since the majority of people who work in this industry are extremely passionate about Italian cuisine, adding garlic to different recipes is like breathing air.
It's mandatory. So running out of garlic is never an option. You can find Cristopher Ranch garlic at Costco, which is by far one of the best types of garlic on the market. It is highly recommended by anyone who loves good food, as it lasts a very long time and is genuinely good. You can use it in various dishes, from dressings, rice, beans, marinades, to garlic bread. Oh, garlic bread…I'm in love.
Prosciutto
Wait, we're not finished with Italian foods! Prosciutto is the Holy bacon, it's genuinely delicious and if I dare say…even healthier. You can substitute bacon in various dishes, from eggs Benedict to breakfast sandwiches, but also in pasta dishes, or wrapped around fish or chicken for dinner.
These salty, cured pork packs add a ton of flavor, but as you might have guessed, high-quality options might cost a bit more. They're often sold in smaller packages at traditional grocery markets.
But at Costco, you'll find Citterio's 18-month-old prosciutto di Parma, which comes straight from Italy. It comes with two 6-ounce packs and costs only $11.29. I don't know, chefs see it as a deal.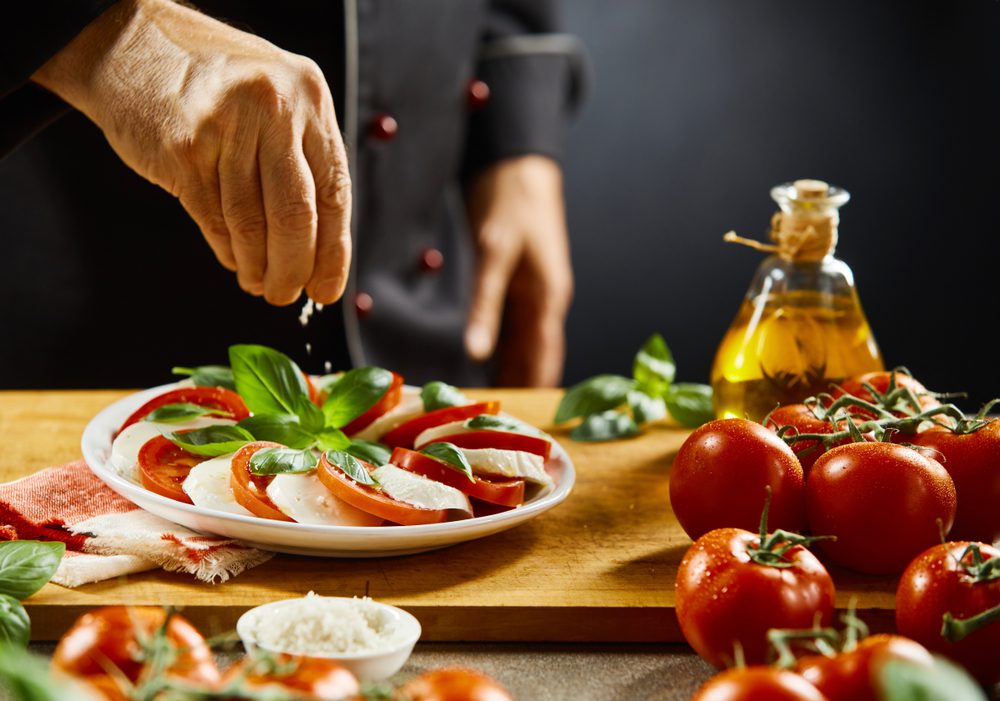 BelGioioso's Mozzarella Snack Packs
Another chef-recommended Costco item are these convenient packs of cheese that have three little balls of mozzarella. But let's be honest, show me one person who can just eat ONLY one snack pack at a time!
Finding fresh mozzarella is mandatory if you're passionate about fresh cheese, and chefs have been extremely satisfied with BelGioioso's mozzarella snack packs. There are tons of 5-minutes recipes you can easily do with these mozzarella snacks.
You can skewer them on a toothpick with tomatoes and basil, and make a quick Caprese, or throw them on a homemade pizza. A bag of 24 1-ounce snack packs is for only $9.39, so grab your keys and go get some!
Organic Double-Chocolate Cookie
The baker we contacted was really fond of Theo's organic double-chocolate cookie bites. "Even if I'm a full-time baker, I still prefer grabbing some of those after a busy day at work." You and me both, brother!
These dark chocolate-covered cookie-dough pieces are not only crunchy, but they're also not too sweet, which is even better. These chocolate cookie bites will definitely make you fall in love with them.
I mean, let's be honest: they have the perfect crunchy chocolate cookie center, with the perfect combination of cocoa and vanilla, PLUS they have the added benefit of being covered in 55% dark chocolate. You can find them at Costco for only $17.40.
Smoked Salmon
In some cities in America, a bagel with cream cheese and lox can easily get to be over $12, which is not exactly the kind of expense you'd want to have on a daily basis. So if you want to be more frugal and still have a few of your favorite foods at least once a week, try what chefs are recommending.
Buy your favorite bagels from your favorite bakery store, and build your own bagels. Love a good smoked salmon? No problem, Costco's smoked salmon comes with a fair price and an unfair quality (for how cheap it is). A 12-ounce pack costs only $19.49.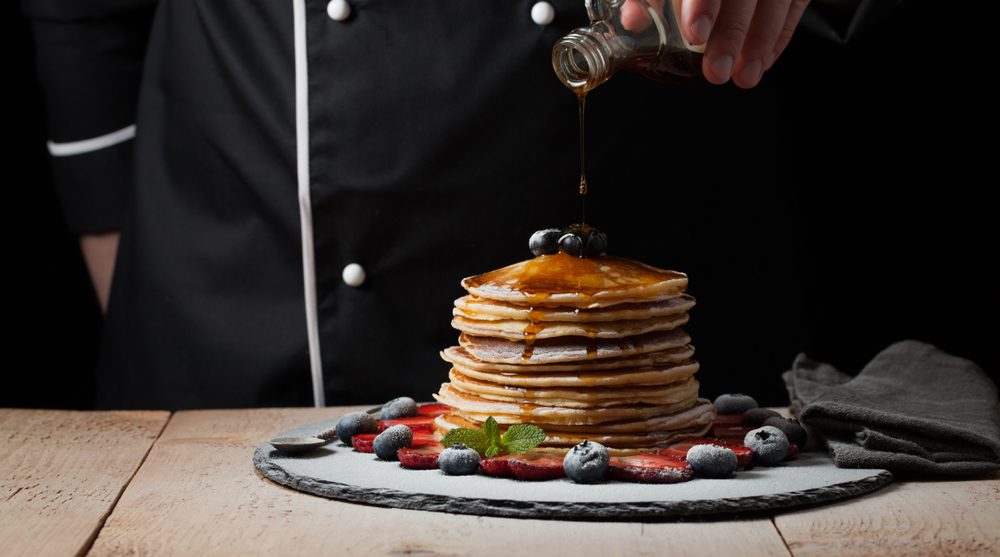 Maple Syrup
I wasn't expecting to hear from a bakery chef that he 100% prefers maple syrup over white or brown sugar. I know it's a dream that might never happen. But he did say that sometimes he prefers using maple syrup in a one-to-one ratio as a substitute for refined sugar, which is still great.
And we both agreed on this, maple syrup has a more complex flavor and is better for cookies and glazes. He recommended using Costco's 100% pure maple syrup, which can hurt your wallet. However, Kirkland's option comes to the rescue, as it is very affordable and high quality. A 1-liter bottle of maple syrup costs only $11.99.
Mama Lil's Spicy Pickled Peppers
Don't you wish your girlfriend was not too spicy, perfectly vinegary, and delicious just like Mama Lil's peppers? Ok, if you're not a Pussycat Dolls fan, forget about it. Costco's Mama Lil's are originally from the Hungarian "Goathorn" peppers, grown in the Northwest.
While none of us know for sure what that means, it sure sounds interesting! These peppers are soaked in a sweet brine of vinegar, sugar, garlic, maple syrup, some good old salt, and fennel seed. Delicious! You can eat them with biscuits, or you can add them to pizza. They're the rustic version of adding hot Tabasco sauce to everything.
Kirkland Oat Milk
Kirkland's oat milk is the non-dairy alternative our baker chef recommended. The Costco version is incredibly creamy, it has a subtle oat flavor, and it is great to add to coffee. If you don't like dairy, this is the kind of product that you'd gladly buy every time you go grocery shopping.
It comes in a six-pack, and it only costs $9.49, which is fairly convenient. You can store the 32-ounce boxes in the pantry, and you can rest assured that for a couple of weeks you have them there. If you're not crazy about the oat milk taste, it's worth mentioning that you have other Kirkland non-dairy alternatives as well.
Kirkland Organic Extra Virgin Olive Oil
Costco has one of the best options of olive oil on the current market, which is Kirkland's organic extra-virgin olive oil. There aren't enough days in the week for me to explain why it's so important to have at least a bottle of olive oil in your pantry.
It's not only VERY healthy, but it's also delicious. You can use it as the base of your salad dressings, roast your veggies in it, or drizzle it over your pasta and homemade pizza. And when it comes to good quality, we asked our chef what he recommends. He recommended Kirkland's oil, for its high quality and reasonable price. A 2-liter bottle costs only $11.99.
The "King of Cheeses"
As a professional chef, you always go for the best products, such as the infamous Parmigiano Reggiano. But let's be honest, these ingredients aren't very cheap. Well, Costco comes with what we like to call "The king of cheeses", which is imported straight from Emilia-Romagna, Italy.
At any other conventional grocery store, Parmigiano Reggiano is difficult to find. And if you do find it, it's a budget-killer. But at Costco, you can find a 36-month aged cheese for only $13.99 a pound, which is half the price of any other local shop.
If you enjoyed reading this article, we also recommend reading: 8 Restaurant Chains With the Worst Reputation
(Visited 15 times, 1 visits today)