Donald Trump's historic victory in the presidential election of 2016 has sparked conjecture about other noteworthy persons with no political experience who may contemplate running for President in 2020.
Some celebrities, such as Kanye West and Chris Rock, have even suggested running for president, albeit as well-timed one-liners in response to Trump's rise.
However, for someone like Dwayne "The Rock" Johnson, who has demonstrated a real interest in policy reform, a successful presidential candidacy now appears much more likely in the aftermath of Trump.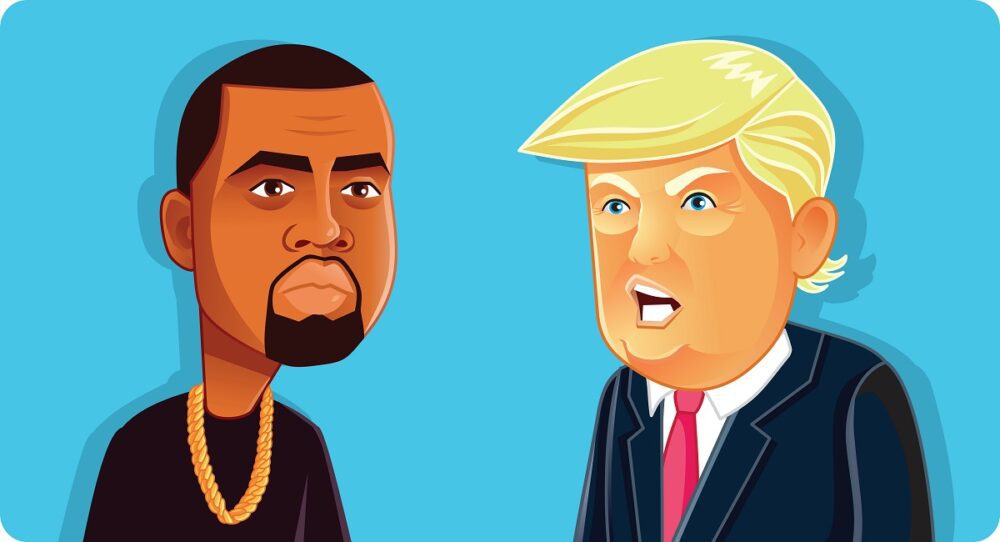 Celebs Most Likely to Run for President
1. Kanye West
At the annual MTV Video Music Awards in 2015, the rapper revealed his ambition to run for president in 2020, but it appears he will wait another four years. At his show a week after the November election, West informed the crowd that if he HAD voted, it would have definitely been for Trump, and then touted his potential 2020 presidential candidacy, claiming he'd be a different sort of president.
West caused quite a stir a while back when he paid a surprise visit to Trump Tower. After the meeting, Trump informed reporters that they chatted about life and that West was a long-time buddy.
Following the meeting, Kanye stated that they discussed multicultural problems, and he ended his series of tweets with the cryptic "#2024."
2. Oprah Winfrey
Shortly after last year's election, documentary director Michael Moore pitched Winfrey as a future presidential contender, stating that Democrats should follow Republicans' lead and support a celebrity candidacy.
Why don't we run loved ones? Moore told CNN, that we have so many of them. The Republicans do it—they run Reagan, the Terminator [Schwarzenegger], and others.
Over the summer, the talk show host ultimately backed Hillary Clinton. However, Trump stated last year that he would "love" to have her as his running mate.
3. Tom Hanks 
Moore also mentioned Hanks as a probable Democratic presidential candidate in 2020.
Hanks' address at the New York City's Museum of Modern Art, in which he attempted to assuage worries of a Trump presidency, spurred rumors and demands for him to consider running for president himself.
But Hanks, who received the Presidential Medal of Freedom in 2016, played down expectations.
I agree that just because I'm an actor, I can deliver a decent speech, he told Vulture. However, the idea of really voting for someone merely because they can do so? Then [game show host] Monty Hall could have been elected President of the United States!"
4. George Clooney
The Oscar winner has created a name for himself outside of Hollywood.
As a United Nations Messenger of Peace, Clooney has become a high-profile humanitarian campaigner, and in 2009, he was named among TIME's "Most Influential People in the World."
In 2008, he co-founded Not on Our Watch with fellow stars Matt Damon and Brad Pitt to confront worldwide human rights atrocities.
Clooney's name is frequently mentioned as a potential politician, although he appeared to rule it out last year.
I've been asked about that for over 20 years, and the answer is simply no, he replied.
5. Dwayne "The Rock" Johnson
Dwayne "The Rock" Johnson, formerly known as "The People's Champion" in the world of professional wrestling, may one day run for "The People's President."
Following Trump's triumph, Johnson told Vanity Fair that he couldn't rule out a future presidential run.
He was a key note speaker at the Republican National Convention in 2000 and is a registered Republican, so the wrestling and acting sensation has some political experience.
And last summer, he took to Instagram to promote a Washington Post piece that hinted at a possible offer for the "Ballers" and "Fast and Furious" franchise actor.
"I CARE VERY MUCH ABOUT OUR COUNTRY… "And the idea of one day being President to have a genuine good impact and effect global change is quite appealing," he stated.
6. Chris Rock
The renowned comedian has never sought to be in office, but he has portrayed one on film.
Rock appeared in the 2003 film "Head of State," in which he played a local Washington, D.C. politician who was chosen to run for president as a substitute candidate after the nominee perished in a plane accident.
Rock tweeted "I'm going to run in 2020, so wish me luck" with an image of the "Head of State" poster just two days after Trump's win. Later on that month, he tweeted a photo of the cover of "Vibe" magazine with the heading "Chris Rock for President."
Rock mentioned that some huge news will be revealed soon.
7. Katy Perry
The music artist was a staunch Clinton supporter, holding a voter-registration performance only days before Election Day.
Perry's hit song "Roar" was regularly heard at Clinton rallies, and she also performed at the Democratic National Convention in Philadelphia.
Perry's participation in politics has sparked conjecture about whether she would run for office one day.
She fueled speculation of a possible presidential run with an Instagram photo of herself standing between former Presidents Bill Clinton and George W. Bush, captioned "42, 43, 46?!"
Perry earned a humanitarian award from UNICEF in late November. In an unexpected visit, Hillary Clinton presented her with the prize.
8. Tim McGraw
For years, the country music artist has been involved in pushing Americans to vote and has frequently acknowledged his interest in politics.
McGraw, a Democrat, told Esquire in 2006 that he'd consider running for office in 10 or 15 years. However, McGraw has stated that he would want to wait until his children were grown and he felt ready to transition from singing to campaigning.
9. Mark Cuban
During the 2016 campaign, the wealthy Dallas Mavericks owner emerged as one of Trump's main foes, using any opportunity to poke the Republican nominee.
He backed Clinton while labeling Trump a "jagoff" and appearing as her guest at the debate. The "Shark Tank" investor frequently questioned if Trump had been as successful as he claimed in business.
He, like Trump, has long publicly considered running for president but has recently dismissed the idea. I'm not interested in politics. I don't have any interest in running for mayor, governor, senator, congressman, or even batboy, he told the Dallas Morning News before the election.
Read also: 5 Best and 5 Worst Presidents of All Time
(Visited 58 times, 1 visits today)