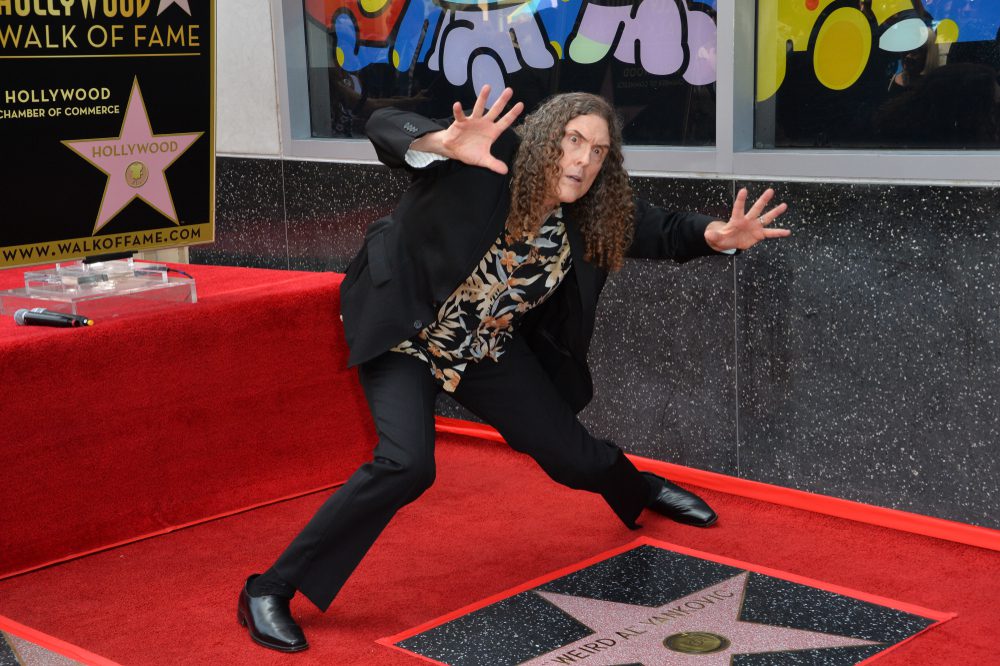 He first started his first professional recordings and representations on the Dr. Demento radio show a long time ago. "Weird Al" Yankovic was born in Downey, California, on October 23, 1959, and has succeeded to make it on the pop culture map and stay there.
Yep, no matter the times have changed, he succeeded in keeping up with them. What's even funnier is that he managed to stay on top even if so many of the bands and artists he has parodied in the past have faded out of the spotlight. This is "Weird Al" Yankovic, and we thought you'd love to know some really interesting facts about him:
His parents chose the accordion for him
The legend is confirmed by Al Yankovic. On the day before Al turned 7, there was a door-to-door salesman that came through Lynwood, California, in order to solicit business for a local music school, which was offering its children a chance to learn either guitar or accordion lessons.
And given that Frankie Yankovic had the family's surname and was known as "America's Polka King", Al's parents decided to go for the squeezebox. But Al learned how to play rock n' roll at that instrument. Even if Frankie and Al weren't actually relatives, the two would eventually collaborate.
Weird Al skipped the second grade
Al went to kindergarten one year earlier than he should have and skipped the second grade. That's why his scholastic promotion wasn't very popular with his older classmates. Yankovic recalls "getting his fair share of verbal abuse, but learned in time to run fast not to get beaten up a lot."
He recalled that when he wasn't running away, his recess time was oftentimes spent pretending to be Mr. Terrific, which was a TV character that took a power pill to become a superhero. Yankovic graduated from Lynwood High School at 16 years old as a valedictorian.
Al Yankovic added "Weird" to his name in college
Yankovic's full first name is "Alfred", and that's how he was referred to throughout his childhood. But after he started going to California Polytechnic State University, as he was going to get a degree in architecture, the "Weird" nickname became attached to his name.
Plus, he got a gig in the campus radio station, where he was playing records on Wednesdays from midnight to 3 a.m., so he needed a DJ name. That's how "Weird Al" was born. Yankovic needed a lot of time just to manage to sneak in any "weird" music that wasn't considered a part of the college station's format.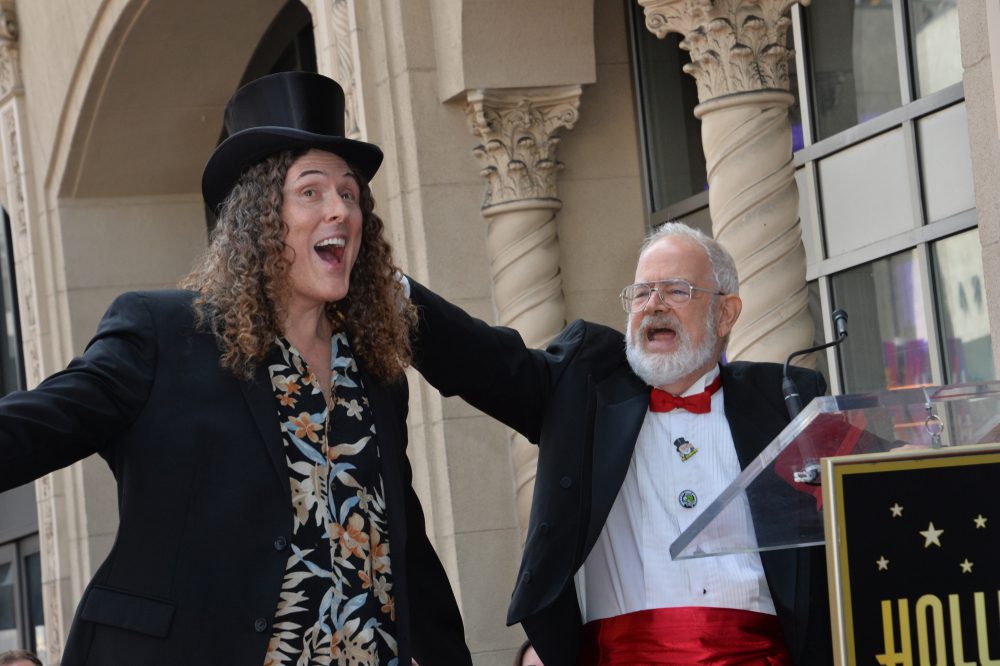 "Weird Al" Yankovic's "My Bologna" had been recorded in a bathroom
When he was still in college, Yankovic recorded one of his famous parodies of The Knack's "My Sharona" in an acoustic-tiled bathroom across the hall from the college radio station. He had to find a microphone cord that was long enough to reach back to KCPR-FM's tape deck.
The song was highly appreciated on Dr. Demento's show, but it was "My Bologna" that transformed Yankovic's hobby into a career. Fortunately, Rupert Perry, the VP of Capitol Records, was there when Knack lead singer Doug Feiger was expressing his appreciation for Al's parody. In fact, Yankovic remembers that Feiger turned to Perry and said: "You guys need to put this song on Capitol records!"
Weird Al is not obliged to seek out permission to parody an artist's song, but he asks for it anyway
There's a "fair use" provision of U.S. copyright law that shows how Yankovic and other folks from his field don't need any kind of permission from original artists to satirize their work, as long as they pay royalties.
However, given that Weird Al wished to stay on friendly terms with all the other artists, he still asks for permission before recording something. Also, Al learned the hard way that if you don't ask for the artist's approval, you can have a harder time getting a label to release your latest single, as they can abruptly close the deal due to "financial trouble".
Back in 1981, Weird Al released "Another One Rides The Bus", which was a parody of Queen's song "Another One Bites The Dust". While the deal was made with TK Records, it turned out to be the last single release for them.
Some musicians and even record labels have denied Weird Al permission to parody their song
Yankovic recalled that he only gets refused "2 to 3 percent" of the time. However, those rejections have been notable. For example, even if Led Zeppelin guitarist Jimmy Page is a huge fan, he didn't approve of a polka medley of Zeppelin tunes. However, a sample of "Black Dog" was still allowed in a "Trapped in the Closet" parody.
Also, Paul McCartney didn't give his blessing for Wings' "Live and Let Die", because its altered version would have ended up being "Chicken Pot Pie", which was against McCartney's vegetarianism. There are other cases when the artist agrees but then everything stumbles at the label's door.
One group's fans once threw things at Weird Al and his band for 45 minutes
In 1982, Weird Al and his new band played at their first major concert, but it was a huge disaster. The band opened the show for the New Wave band Missing Persons at the Santa Monica Civic Auditorium.
But the night was ruined when they started getting hit with assorted thrown objects for their entire 45 minutes on-stage. But it didn't stop there. Yankovic recalls walking to his car in the parking lot when a 12 years old boy came up to him and said: "Are you Weird Al?" to which he answered that he is. Then, the boy proceeded to scream: "Well, YOU SUCK!" That was the capper of the evening."
"I Lost On Jeopardy" might have had something to do with getting Jeopardy! back on the air
So this is the timeline of events: Jeopardy! began as a daytime game show on NBC from 1964 to 1975. On December 12, 1983, Weird Al recorded his song "I Lost On Jeopardy". The single referred to the NBC version of the show, which was released on June 4, 1984.
The music video starred Fleming and Pardo (who were the hosts of the real show). Shortly, Jeopardy! was making a huge comeback on the air, with a new host, Alex Trebek. Even if the programmers initially scheduled the show during very unpopular hours, the revival would later become a great television institution.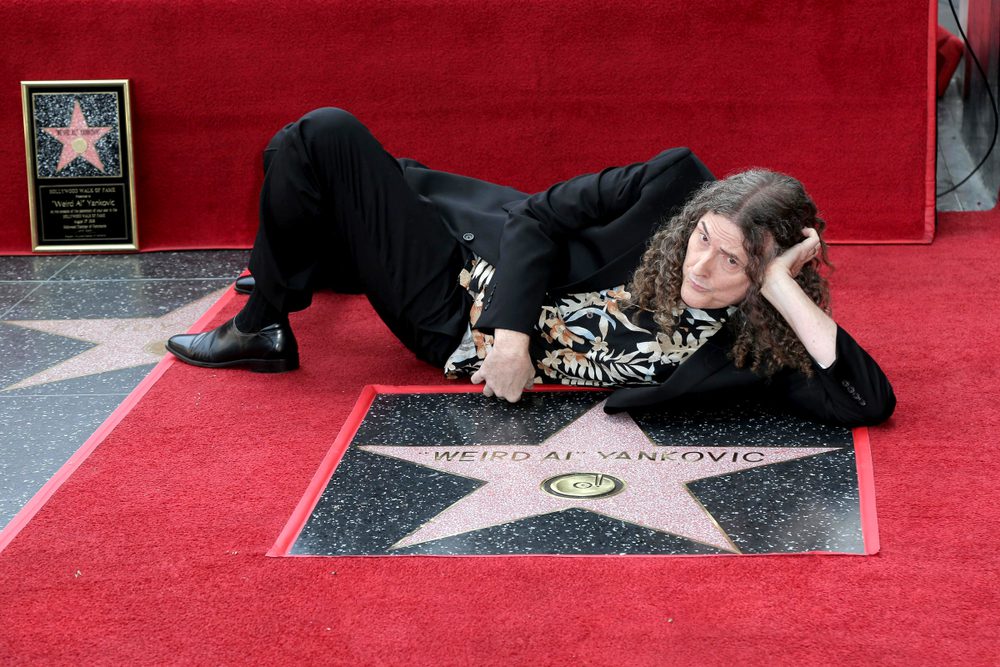 "Like A Surgeon" was in fact Madonna's idea
Madonna wondered aloud when Weird Al turned "Like a Virgin" into "Like a Surgeon". Word is that Madonna and an unknown friend made history while they were discussing one day. So you might be wondering what this has to do with anything.
Well, that friend was a mutual friend of Yankovic's manager Jay Levey, so the brilliant idea became the first single and video from his "Dare To Be Stupid" album. It was the first and last time when a musician managed to offer a suggestion to Yankovic, who generally discourages people from giving him parody ideas.
Michael Jackson was a fan of Weird Al's music
Weird Al couldn't believe it when he found out that Michael Jackson agreed to a parody of "Beat It", but he was pleasantly surprised to hear from Michael's representatives that he enjoyed "Eat it" and thought it to be funny.
Years later, Yankovic came up with a new idea, to make a version of Jackson's "Bad" called "Fat". Jackson not only agreed to this parody, but he actually told him that he could use the set from his "Badder" music video.
At some point, the two artists met in person. The first time, they were backstage at one of Michael's shows. The second time was after tapping a TV show, where Jackson said he would screen UHF to his friends at his Neverland ranch.
Despite being a fan of this comedic performer, Michael Jackson didn't let "Weird Al" record a parody of "Black or White"
"Snack All Night" was Yankovic's interpretation of "Black or White", but this time, Michael wasn't "really into it". That's mainly because Jackson saw "Black or White" as an important message song, so any comedy that would undercut it was too much.
Later on, Weird Al admitted that Jackson did him a favor, helping him to avoid becoming someone that could have been known simply as someone who makes parodies of MJ's song. Instead, he steered Yankovic towards a more commercial success in 1992, lampooning Nirvana instead.
Even if "Snack All Night" has never seen the light of the day as a recorded song, it has been played a few times at his shows.
"Weird Al" Yankovic wrote a song in 1986 named "Christmas At Ground Zero"
In 1986, Weird Al made a song called "Polka Party!" that was supposed to be a response to the Scotti Bros. record label, who had been trying very hard to get him to play a Christmas song for two years.
While it's still debatable if radio stations banned the song or not, its macabre nature limited its commercial potential anyway. The song is set in a world where a nuclear war is just around the corner, and the term "ground zero" is a general description of a place where it was detonation. After the events that happened on September 11th, the radio airplay of this song became even scarcer.
Nirvana revitalized Weird Al's career
After UHF was hit by a commercial failure, Yankovic returned to his recording studio in June 1990 to record new original songs for his new album. But when he was supposed to start, he ran into a big problem: there was nothing good anymore to make fun of.
He was turned down by Michael Jackson with "Black and White", so the only thing he could have done is to concentrate his attention on Nirvana's "Smells Like Teen Spirit", which he turned into "Smells Like Nirvana". The song basically made fun of the fact that it was very hard to understand what Kurt Cobain was saying.
Coolio was not cool at all with "Amish Paradise"
After releasing "Amish Paradise", Weird Al made sure he'll always speak directly with the artist and never rely on what their management says. At the time, the song based on "Gangsta's Paradise" really pissed off Coolio.
Very soon, Weird Al apologized, mentioning that Coolio's managers made it very clear that the rapper is ok with the parody. But one year later, Coolio introduced these verses in one of his songs, "Throwdown 2000": "Fools be in the bars unadvanced with a switch/ Uppercuts and fight kicks with Weird Al Yankovich".
But after a while, Coolio cooled off, saying that he realized he might have acted too self-righteous.
Prince refused to be parodied multiple times and didn't want Weird Al to even look his way
Throughout the '80s and early '90s, Yankovic constantly approached Prince for his permission to satirize his work, but he was always denied the right to do that. And to get clear indications that things were very personal, Al received a telegram from Prince's lawyers on the night before an edition of American Music Awards, where it was clearly written not to make eye contact with the Minnesota native.
Yankovic recalls finding out that other musicians that were seated within Prince's vicinity received a similar note, and he also admitted to having looked at him a few times.
If you enjoyed reading this article, we also recommend reading: 10 Celebrities Who Said "Bye-Bye" to Makeup
(Visited 200 times, 1 visits today)