In the world of celebrities, love and marriage do not necessarily go together like a horse and carriage. Only half of Americans marry now, a significant decrease from 50 years ago. However, the drop in marriage rates and the increase in divorce rates did not discourage many celebrities from marrying many times.
If you tally up all of the marriages on this list, you get 73 marriages, the majority of which ended in divorce. Not all is lost. Despite the fact that there are many famous couples who have made their love endure, Hollywood stars are renowned for brief romances and failed marriages.
But you have to give it to celebs who keep going back to the altar because they never give up on love. Scroll down to uncover the celebrities who have been married the most, including a couple who have gone down the aisle more than five times!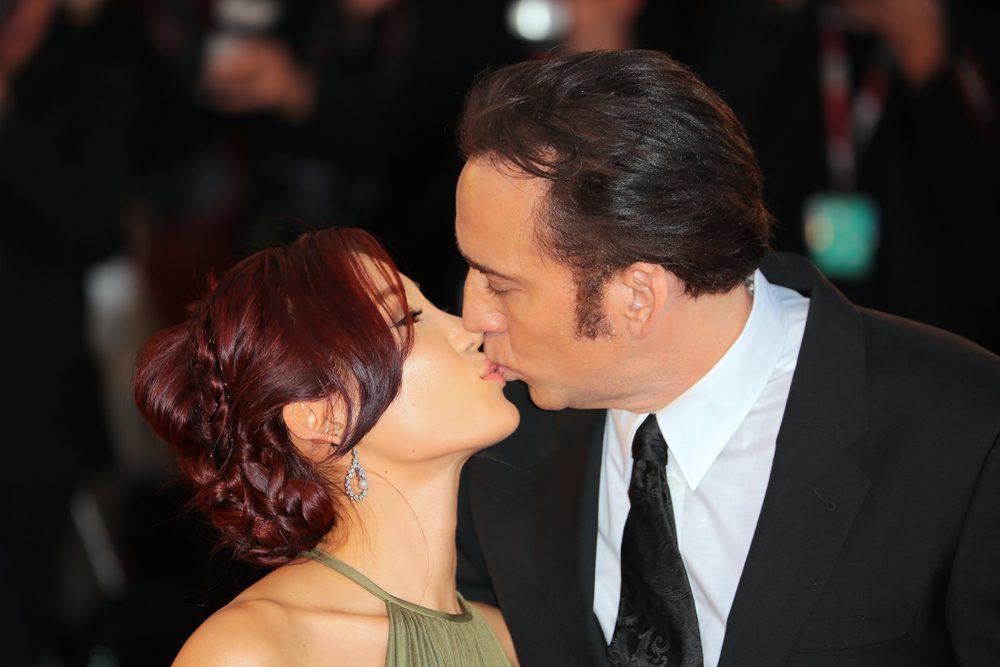 7 Celebrities Who Had More Than 5 Marriages
1. Nicolas Cage
Number of Marriages: 5
From 1995 until 2001, Cage was married to Patricia Arquette. He then had a short marriage to Lisa Marie Presley, whom he married in 2002. The couple filed for divorce a few months later. From 2004 through 2016, he was married to Alice Kim.
He married Erike Koike in 2019, but filed for divorce four days later, barely four days after their Las Vegas elopement. Two months later, the marriage was declared null and void.
On March 5, 2021, he shocked fans by announcing his fifth marriage. The actor and his fiancée Riko Shibata married privately on February 16 in a tiny ceremony at the Wynn Hotel in Las Vegas, Nevada. They are now expecting their first child together (Cage's third).
2.  Zsa Zsa Gabor
Number of Marriages: 9
Zsa Zsa Gabor leads the pack of celebrities who have had the most marriages. In 1935, she married Burhan Asaf Belge, and the couple divorced in 1941. In 1942, she married Conrad Hilton, whom she divorced in 1947.
From 1949 to 1954, she was married to George Sanders, and from 1954 to 1966, she was married to Herbert Hutner, whom she divorced on March 3, 1966. On March 9, the same year, she married Joshua S. Cosden Jr., but the couple divorced in 1967.
She wouldn't marry again until 1975, when she married Jack Ryan. They divorced on August 24, 1976, and she married Michael O'Hara on August 27, 1976. In 1983, the couple divorced.
Then there was her brief marriage to Felipe de Alba, which lasted from April 13 to April 14, 1983, and was annulled since her divorce had not yet been formalized.
Finally, in 1986, she married Frédéric Prinz von Anhalt, with whom she remained until her death in 2016.
3. Jennifer O'Neill
Number of Marriages: 9
This actress was married nine times to eight different men, the first of them, Dean Rossiter, who she married when she was a mere 17 years old. They divorced in 1971, and in 1972, O'Neill married her second husband, Joseph Koster.
They were married till 1974, following which O'Neill married Nick De Boia from 1975 to 1976, when they divorced. She married Jeff Barry in 1978, and the couple divorced in 1979.
Later that year, she married John Lederer, but the couple separated in 1983. She married Richard Alan Brown three years later, and they divorced in 1989. Neil L. Bonin was her next spouse, whom she married in 1992; the marriage was annulled a year later.
She remarried her ex-husband, Richard Alan Brown, in 1993, but the couple split three years later.
Her most recent marriage occurred in 1996 to Mervin Disney Louque, Jr. They are still together.
4. Mickey Rooney
Number of Marriages: 8
The actor married actress Ava Gardner in 1942, and the marriage ended in divorce in 1943. In 1944, he married Betty Jane Phillips, whom he divorced in 1949. Shortly after, in 1949, he married Martha Vickers, whom he divorced in 1951. Following that, he married actress Elaine Mahnken in 1952. In 1958, they divorced.
Rooney married actress Barbara Ann Thomason in 1958; she was killed in 1966 by a stuntman and actor with whom she had an affair. Rooney married Marge Lane, his late wife's best friend, but the couple split after only 100 days together.
From 1969 until 1975, he was married to Carolyn Hocket. He married Jan Chamberlin in 1978, and the couple remained married until his death in 2014, but they had split in 2012.
5. Larry King
Number of Marriages: 8
The late legend was married eight times to seven different women, beginning with a high school sweetheart in his late adolescence and ending with his most recent wife, from whom he was alienated at the time of his death.
He married Freda Miller in 1952, but their union was purportedly dissolved by their disapproving parents. Then, in 1961, King married Annette Kaye for less than a year. He married Alene Akins (the first time) that same year, and the couple divorced in 1963. In 1964, he married Mickey Sutphin, but they got divorced two years later, in 1967.
He married Akins once again in 1968, and the couple divorced in 1971. He married Sharon Lepore in 1976, but the couple separated in 1983. Six years later, in 1989, Larry King married Julie Alexander, but the couple divorced in 1992.
He married Shawn Southwick in 1997, and the couple was together until 2019, when King filed for divorce. When King died in January 2021, the two were separated and in the midst of divorce proceedings.
6. Billy Bob Thornton
Number of Marriages: 6
Thornton married Melissa Lee Gatlin from 1978 to 1980, then Toni Lawrence from 1986 to 1988. He married Cynda Williams in 1990, and the couple divorced two years later. From 1993 to 1997, he was married to Pietra Thornton before marrying Angelina Jolie in 2000. They divorced in 2003.
Thornton is presently married to Connie Angland, whom he married in 2014 after dating her for 12 years.
7. Gary Oldman
Number of Marriages: 5
Oldman, who has been married to writer Gisele Schmidt since 2017, has had several marriages. From 1987 to 1990, he was married to actress Lesley Manville, and from 1990 to 1992, he was married to Uma Thurman.
In 1997, Oldman married Donya Fiorentino, and the couple divorced in 2001. He married Alexandra Edenborough in 2008, and their marriage ended in divorce in 2015.
Read also: 6 Most Hated Hollywood Couples
(Visited 578 times, 1 visits today)