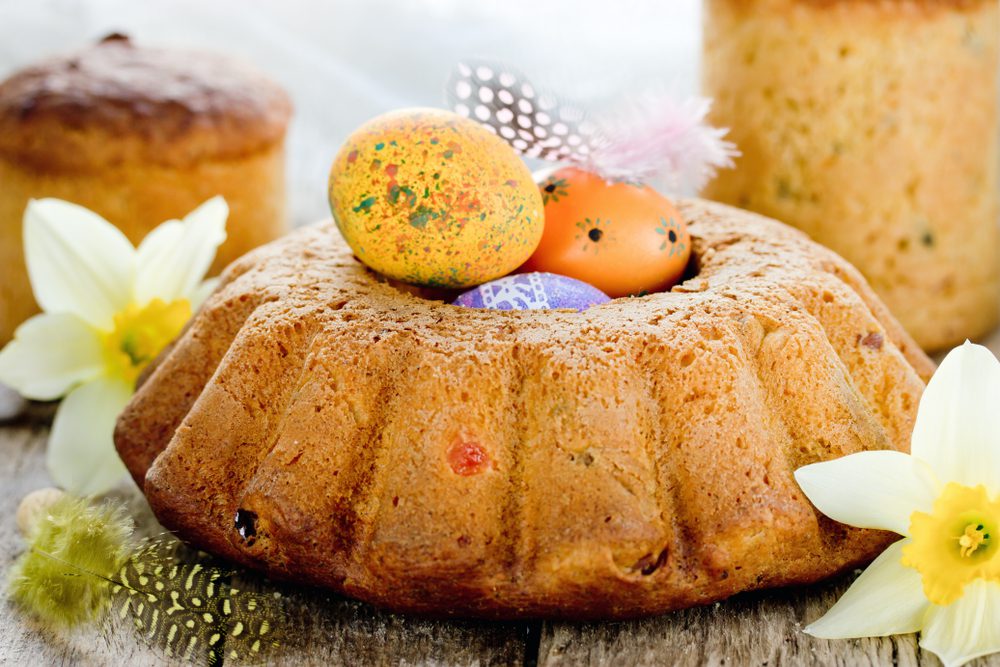 Besides colorful hard-boiled eggs, there are so many tasty recipes that factor into the traditional Easter meals that are so beloved around the world. The foods are different in every country and region, including sweet bread, pastries, meat, egg dishes, and many cakes and cookies.
Oftentimes, the recipes are actually very indulgent, as they feature the foods that were forbidden during Lent. If you always wondered how other cultures and countries celebrate Easter, you came to the right place!
We gathered some of the most interesting and delicious recipes from all over the world, so you can inspire by whatever sounds interesting to you! Here are some of the dishes that you'll find during Easter time in Poland, Italy, Lithuania, Greece, and England.
Roasted Lamb
Lamb is the most popular dish among Easter celebrations from all over the world. The roasted lamb dinner that so many people eat on Easter Sunday is actually before Easter, as it's derived from the first Passover Seder of the Jewish people.
You will find many recipes that are featuring different variants and spices, depending on where the dish is coming from. However, there's a simple version that is based on universal ingredients, such as garlic, lemon, and herbs, which are then rubbed on the lamb before roasting.
If you decide on trying such a recipe, don't forget to plan it before, as the lamb needs to marinate for a minimum of six hours.
Polish Żurek (Ryemeal Soup)
This Polish Easter Brunch recipe is based on a ryemeal soup, also called żurek. The base of the soup is called żur, meaning a fermented rye flour (also known as ryemeal sour), which starts in the week leading up to this holiday.
In the soup are various ingredients, such as biała kiełbasa, which is a specific type of Polish sausage that's made from the family's own recipe, but also potatoes and hard-cooked eggs. The soup is usually served in heated bowls, with half of a hard-cooked egg on top of the soup, and a slice or two of rye bread on the side.
Polish White Borscht Soup
Another strong element in the Polish Easter tradition is the white borscht soup, which is also called by locals biały barszcz or żurek wielkanocny. As you have probably imagined, the recipe for this kind of dish is being passed down through generations, so each and every recipe is unique.
Usually, you will find potatoes, garlic, sour cream, kielbasa, eggs, and even rye bread as the main ingredients. Another important detail is that this soup is being served in bowls that are already warm and that it has bite-size pieces of the rye bread in first, and ladle the soup over it.
Polish Braised Red Cabbage
Braised red cabbage is probably the easiest food on the Polish dinner table. Also known as czerwona kapusta zasmażana, it comes as a side dish to almost any meat, such as roast leg of lamb, roast suckling pig, cooked ham, and even roasted turkey.
You will definitely find a potato dish and horseradish on the table too. If you prefer using a food processor to shred the cabbage, you'll finish making this dish in a maximum of 10 minutes. The cabbage and onions are a bit sauteed, up until the point they start to soften, and then they're combined with water, vinegar, sugar, salt, and pepper and cooked down until they're soft and tender.
Polish Chalka
Chałka is basically braided egg bread, which is one of the most popular dishes in Poland. It is extremely fun to make and it has a slight sweetness, as it's full of raisins. In order to make this, you'll need a yeast dough of warm milk, butter, sugar, eggs, flour, and of course, raisins that will be left to rise and then divided into three smaller pieces that will then be braided.
The loaf will rise again and then it will be baked until it turns golden. You'll get only one loaf out of this recipe, but you can also split the dough in half to make two smaller loaves.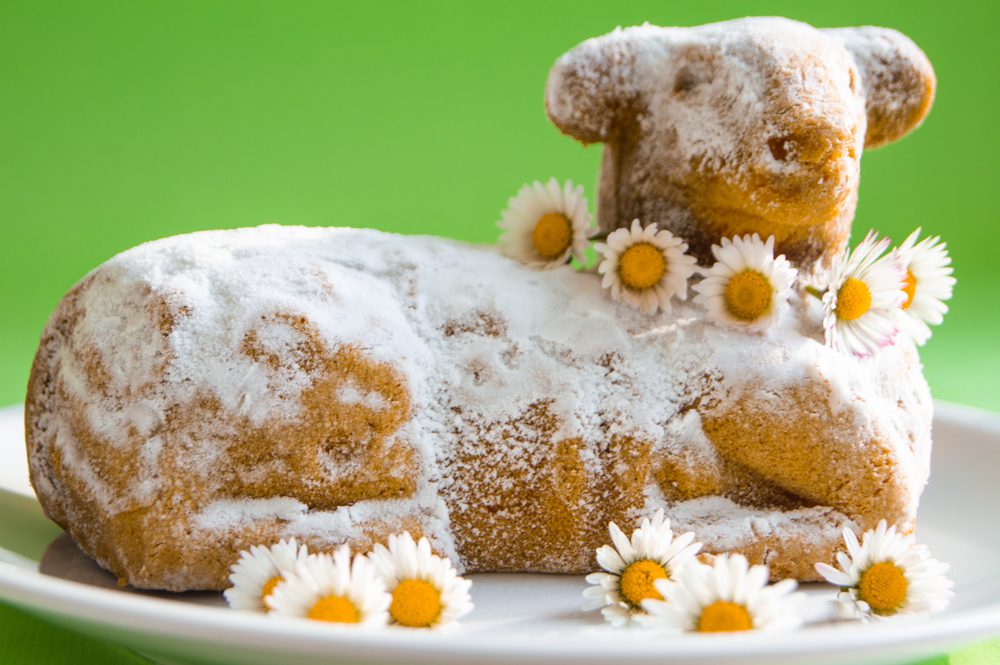 Polish Lamb Cake
The lovely lamb cake is a big part of the Polish Easter tradition, but it's also a European tradition that has been borrowed by some Americans too. So there's a big chance you already heard about the lamb cake.
All you need is a lamb-shaped mold, where you can use a simple pound cake mix for the recipe, in order to get done with it fast and easy. Decorate it with a cream cheese frosting and then use the raisins for the eyes and the nose. Also, you can paint some coconut flakes green, so you can give the impression of "grass".
Polish Babka Wielkanocna
Babka Wielkanocna is one of the richest representations of how Polish people are celebrating after the Lenten fast. This recipe is extremely similar to the Italian Panettone, as it's a yeasty cake recipe that needs only three eggs, rather than other recipes that need 15 eggs or even more.
Also, it requires only one round of 90 minutes rise instead of two. This cake can be easily done under three hours from start to finish. Even if there are many other recipes of babka throughout Eastern Europe, you will never go wrong with this traditional Polish recipe, as it's rich with raisins and topped with lemony icing.
Polish Mazurek Królewski
Another fantastic sweet treat for a proper Polish Easter dessert is Mazurek królewski. It's a flat pastry that is extremely easy to make, and it's super delicious. This pastry is a beautiful work of art, topped with almond paste and fruits, such as apricot, cherry, or raspberry preserves. You can add dried fruit and nuts if you prefer. Also, feel free to dust it with confectioners' sugar as the final touch.
Italian Wedding Soup
The Italian wedding soup is called "minestra maritata", which translates to "married soup, and it's oftentimes served at the holiday meal. The soup has become an incredibly popular fixture in Italian restaurants, as the U.S. Sweet Italian sausage and other tender greens are offering a satisfying texture and amazing flavor.
It is only simmered for one hour, and then it's being served with freshly grated cheese, that's sprinkled on top and with a side of crusty bread. This is the perfect soup to complement the delicious lamb, which is why it's almost always one of the main dishes that Italians prefer.
Neapolitan Grain Pie
One of the most popular Italian desserts is the Neapolitan grain pie, also called Pastiera Napoletana. It's basically a ricotta cake that's flavored with orange-flower water, but naturally, the recipes will depend on the amount that's being used.
Also, there's a sweet pastry cream involved! The cake needs presoaked grain, which you might actually be able to find canned in some Italian delicatessens. You can also make your own, but you'll be needing about two weeks in order to do so. You can save some time and energy and skip soaking the seeds yourself, as making the cake will take roughly 16 hours.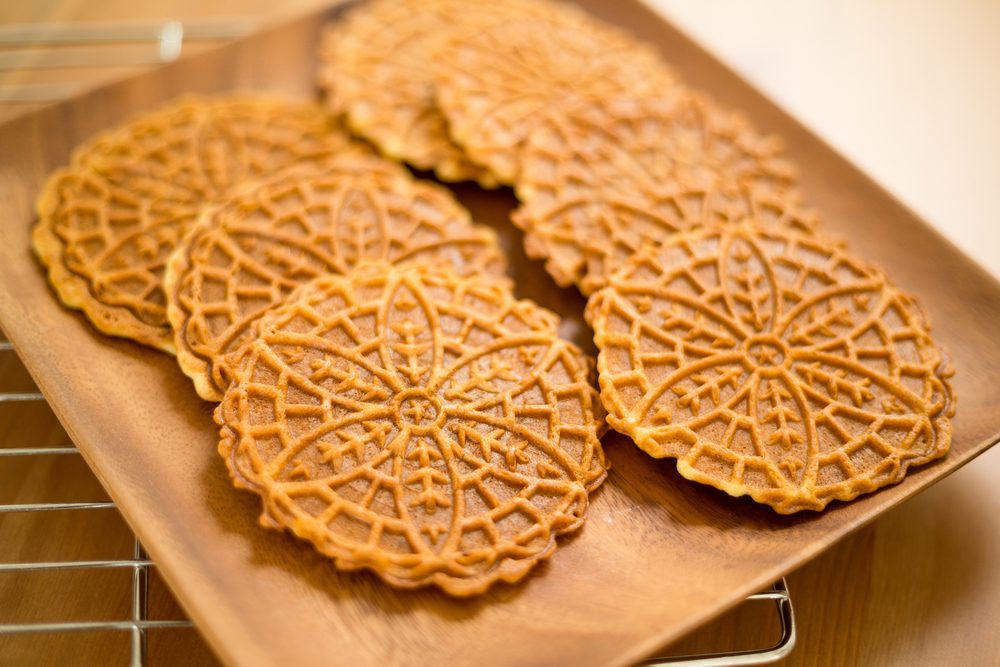 Italian Pizzelle
So these beautiful and delicious Italian pizzelle cookies are carefully adorned and crisp. They're made with a special type of waffle iron, and the batter for this recipe is flavored with anise, while some variations also include vanilla, almond, citrus zest, or even chocolate.
You can also shape them into bowls or rolls while they're still warm, then fill them with fruits, custard, or ice cream for an extra delicious treat. This one is definitely my favorite recipe so far!
Lithuanian Vedarai (Potato Sausage)
Vederai, or the Lithuanian potato sausage can be either meatless or with a bit of bacon in it. The recipe is using a bacon-sour cream gravy, but you can also have this dish with sour cream on the side, instead of the gravy.
It's made out of potatoes, onions, bacon, eggs, and lots of spices. Then, the mixture is stuffed inside a hog casing and cooked for over an hour. You can also opt for the vegetarian version of this sausage, as you only need to skip the bacon part. It's not only incredibly delicious, but it's also worth mentioning that it's super versatile!
Lithuanian Cepelinai (Potato Dumplings)
Cepelinai is a dish that you'll definitely find at many Easter dinners in Lithuania. These potato meat dumplings are known as the national dish of Lithuania and they're also called "zeppelins" because of their shape.
These incredibly tasty dumplings are made of finely grated potatoes, mixed with onions and lots of seasonings. Then, they're shaped into a football-type shape. These potato dumplings are super hearty! They can also be filled with meat or cheese, depending on your own preferences.
The original recipe features a pork filling and creamy bacon gravy on the side, but it's up to you how you prefer yours.
Lithuanian Kugelis
As you probably have guessed, potatoes are a huge part of the Lithuanian diet. So it doesn't surprise anyone that they make another big appearance in kugelis, too. We're basically talking about a savory potato pudding that's very popular on the Easter dinner table and it's one of the well-known traditional side dishes in Lithuania.
Grated potatoes are mixed with cooked bacon, onion, eggs, milk, and flour, and then baked until they're golden brown. You will also find many salads and dishes that include mushrooms next to a kugelis. They're usually served with applesauce, sour cream, or even bacon bits.
Lithuanian Velykos Pyragas
At dinner, Lithuanians also have semi-sweet yeast bread with white raisins known as velykos pyragas. This is one of the best fruit cakes you will ever eat, as it includes a wide variety of glazed fruit, walnuts, and a tasty cinnamon-sugar filling. The bread is then baked for 50 minutes and dusted with sugar or a glaze.
Eastern European Molded Cheese Easter Dessert (Paska)
We can safely say by now that desserts are abundant in any Eastern European Easter tradition. Another traditional dish you're definitely bumping into in that area is the well-known paska, which is a molded cheese delicacy.
The dry cheese is sweetened, and it's mixed up with heavy cream and almonds, plus fruits and candies. The dessert's taste is similar to a cheesecake, except for the crust. Also, it's oftentimes spread on slices of kulich.
The origin of the word "paska" comes from "Easter", so you'll hear it a lot in the Eastern region. There are many other treats that borrowed the name. For example, in Ukraine, paska means lovely sweet bread.
Lithuanian Aguonu Sausainiukai
Another extremely time-honored delicacy in Lithuania is the well-known poppy seed cookie, known as aguonu sausainiukai. The recipe for this cookie is extremely easy, because it's the same as any other cookie, with poppy seeds filling and sour cream included.
Greek Tsoureki
There's this delicious rich yeast bread known as Tsoureki, which is the traditional Greek Easter bread that's similar to brioche. The unique bread is braided and it has a red egg attached to the center of the bread's top right before baking.
There are many versions of this recipe that have been passed through from mother to daughter, and this is exactly one of them. Not to mention that the leftovers from this type of bread would be just perfect for a French toast.
Greek Tiropitas
Tiropitas are super delicious treats that are basically flaky phyllo triangles that are filled with different cheeses. While it might take a while to make them, they are amazing snacks, perfect to ease your hunger when you're waiting for dinner, and are also good for breakfast.
The recipe is using feta, cream cheese, blue cheese, ricotta, and Parmesan for its filling. Luckily, you can be a step ahead and make them ahead of time when you have a free afternoon, instead of cooking them all together on the Easter evening.
Greek Kalitsounia
We're talking about Greek traditional dishes, so expect to see a lot of cheese! Kalitsounia is a sweet cheese pastry that is mostly enjoyed during the holidays on the Greek island of Crete. It's basically a rolled dough that's made with yogurt and brandy, and it's then filled with soft mizithra cheese, cinnamon, and grated orange peel.
You can drizzle honey on top or sprinkle some confectioner's sugar. No matter what you choose to do, these pastries are insanely good!
Greek Tzatziki
Ok, let's take a break from all that cheese. You're probably a fan already of the Greek tzatziki. Well, you should know that Greeks love to eat lots of savory mezethes, or appetizers, which include olives, feta dip, and tzatziki.
Tzatziki is one of the most famous condiments not only in Greece but in the whole world. It's a cucumber dip that's made with sour cream and yogurt, with a little touch of garlic. So not only does it makes a spectacular dip for warm pita triangles, but it goes very well with grilled meats and vegetables at Easter time.
Greek Dolmathakia me Kima (Stuffed Grape Leaves)
Dormathakia me kima is another well-known meze of Greece. They're basically grape leaves stuffed with things, and this combination is proven to be absolutely irresistible. The filling contains rice, dill, mint, and beef or lamb.
If you decide on cooking this dish, you should consider planning it ahead, as they're a bit labor-intensive to make. But not impossible! And also, they're great to put in the freezer for later. Truth to be told, it's difficult to find a Greek celebration that doesn't include these tasty treats!
Greek Aavgolemono
In Greece, the first course always starts with avgolemono, which is a quintessential Greek chicken soup that you can easily find at restaurants. It's made with orzo and a lemon-egg mixture that you won't find anywhere else. Also, it's ideal for the beginning of a holiday celebration meal or even eaten on its own with a bit of bread. You can also eat it as a sauce for the stuffed grape leaves.
Greek Patates sto Fourno
Given the fact that roasted potatoes seem like the perfect accompaniment to any dish that includes roasted lamb, Greek people have patates sto fourno. These potatoes are tossed with a mixture of olive oil, oregano, garlic, lemon juice, and chicken broth, and then they're roasted until they're nice and crisp.
Plus, throw some rosemary in the potatoes and you'll have the perfect side dish to that roasted lamb.
British Hot Cross Buns
While every country that's celebrating Easter has its own Easter bread or cake, hot cross buns are the favorite choice for this time in many areas, especially when comes Britain. Making them takes a bit over two hours, as it requires mixing, rising, and baking time.
These spiced yeast buns are filled with dried fruits, drizzled with lemon icing in the form of a cross to the top, and with a lot of love. The tradition seemed to derive from ancient Anglo-Saxons, who were baking small wheat cakes to honor their springtime goddess, Eostre.
But after they've converted to Christianity, the church changed that bread with sweetbreads that were blessed by the church.
British Leg of Lamb
Any Easter lunch in Britain has the traditional and delicious leg of lamb. It's simply seasoned with garlic and rosemary, but extremely tasty, and it can often be served with gravy, but also with fresh mint sauce.
If you enjoyed reading this article, we also recommend reading: Types of People Who Don't Belong in Walmart
(Visited 129 times, 1 visits today)